74-year-old James Harrison is a superhero to many he's never met.   He doesn't wear a cape or spin webs, but he has saved over two million babies' lives in the past 54 years.
The Australian-born grampa has a very special type of blood – the plasma contains an antibody that cures babies of Rhesus disease, a severe form of anaemia. James, who has now donated over 1000 times, has been giving his blood every few weeks since being 18-years-old; even when he's on holiday…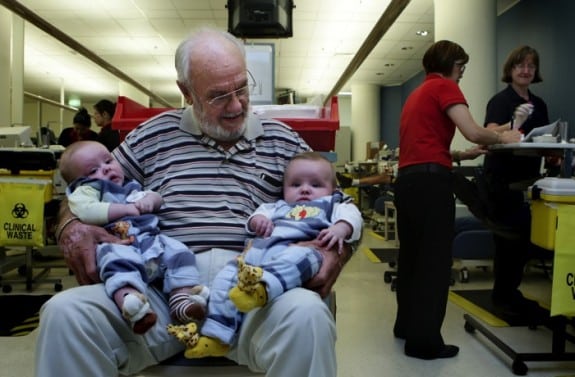 "I've donated on the Sunshine Coast, South Australia, Western Australia, Tasmania, NSW, wherever I go and I get around the place with the caravan club I'm in."
James' initial motivation for donating was a major chest surgery that he underwent at the age of 14, for which he needed 13 litres of blood.
"I was in the hospital for three months. The blood I received saved my life so I made a pledge to give blood when I was 18. I said to my father that I would give blood myself as soon as possible and I stayed true to my word."
It was just after he started donating that the rare antibody was detected in his blood. Thousands of Australian babies were dying every year at the time of Rh disease. Some newborns suffered permanent brain damage. James' blood became so valuable that his life was insured for AUS $1million. In 1966, he began to donate plasma.
"I wasn't scared. I was glad to help," said James, who has been dubbed the 'man with the golden arm' and the 'man in two million'. "I had to sign every form going and basically sign my life away."
When the truth about his blood was discovered, he volunteered for a series of tests to help develop the Anti-D vaccine. The vaccine is given to all pregnant women who are Rh-negative.
Joy Barnes, one of the mothers James has helped, has known him for 23 years. She had miscarried twice at four and five months, before receiving the treatment. "Without him I would never have been able to have a healthy baby," she said. "I don't know how to thank you enough."
James' own daughter, Tracey, has also benefitted from the Anti-D vaccine, shortly after the birth of her first son. She said that she was proud of her dad, especially because he continued to give blood even after the death of her mother. James and Barbara were married for 56 years.
"I was back in the hospital giving blood a week after Barbara passed away," he said. "It was sad but life marches on and we have to continue doing what we do. She's up there looking down, so I carry on."

"More and more blood is needed every day, so if every current donor brought along one friend we wouldn't have the sort of shortage we have at the moment," he said. "An hour of your time is a lifetime for someone else."
{WENN}
---
[ad]