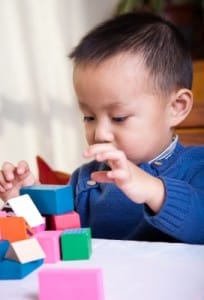 Autism, a neurodevelopmental disorder, is commonly classified by social, communication and behavioral difficulties. The diagnosis covers a wide spectrum of functioning capabilities from severe, non-communicative individuals to high-functioning individuals that may have rigid interests and difficulty in participating normally in social situations. Currently, it is estimated that one in 110 children fall within the autism spectrum, but some potential changes to the diagnosis criteria of autism may change all of that.
The proposed changes will combine all of the various subgroups of autism into one. To receive a diagnosis of autism, a child will have to display more pronounced symptoms, including symptoms of developmental delay. Experts are hoping that the changes will help filter out children that may be receiving an autism diagnosis when, in fact, another condition may be responsible for the social, emotional, sensory or behavioral issues.
Parents of autistic children are wondering, what the changes will mean for their child, especially those that have children on the "high-functioning" end of the spectrum. Tracey Diamond is one of the many concerned parents. Her child, T.J. was diagnosed with autism when he was five-years-old. At 24 months, T.J. suddenly stopped talking.
"He would point to a star and say 'star.' He would point to a light and say 'light,' and then, everything stopped," Tracey stated.
Today, T.J. is almost 15. Tracey is concerned that her son, and other autistic children like her son, will fall through the cracks because the proposed changes to autism spectrum disorder will make it more difficult for high-functioning children to achieve an autism diagnosis.
"It's going to be even harder now to fight for the ones who are borderline," Tracey stated. "I went to one place and the doctor said to me, 'You don't want him to have autism.' I said I don't have a choice, if he has autism, I need the diagnosis. We need to get services." Those services she is talking about will be denied for children that no longer meet the autism spectrum disorder criteria because of the proposed changes.
But experts are saying that the new, restrictive criteria will make things clearer for children who have autism. This could help with insurance payments for services for autistic children, it could help with fueling more medical research for the disorder, and it may help children with autism gain access to better educational and therapeutic programs.
Some experts say that, even though a diagnosis for some higher functioning children may be more difficult to obtain, the support for children on the higher end of the spectrum will not be diminished. Instead, they say that the services for high functioning children will simply be different than they are for the lower functioning children, which, as they claim, is exactly how it should be.
"Rather than changing the name of what it is, there will be more of a focus on symptom severity, so how do they look over time, and I think that will be easier for parents to understand and for professionals to work with," stated Laura Silverman, a clinical psychologist at Golisano Children's Hospital.
But Silverman, unlike some experts, is realistic about the fact that there may be some children that lose services because of the new diagnosing criteria.
"There's always a possibility that you'll lose programs or you'll gain programs, but I think that has more to do with the economic or political climate than with the change in diagnosis," Silverman stated. And when asked, directly, if she felt that some children may lose services, she replied, "without a doubt."
I can't claim to be an expert, but I can say that the narrowing of the autism spectrum diagnosis will very likely reduce the number of children receiving a diagnosis of the disorder. And in the face of limited funding, that will be a positive for children that are on the lower end of the spectrum. As a mother of a child that may be and is getting ready to go through testing for high functioning autism, however, I know, personally, that services are still needed for higher functioning children.
I, too, worry what things will look like for my son, who very clearly needs services, after the proposed changes take place. He is unable to and, since he was in Kindergarten, has not attended a full day of school because of overstimulation issues. His Individualized Education Plan lists him as Emotionally Disabled, for which there are no services educationally, psychologically or therapeutically. And so, instead of receiving services that might help him stay in school all day, like other children, he is only allowed to attend half days. His education suffers for it.
Without services, he may never be able to successfully complete a full day of school. For ten years, we have fought to find someone that would listen and help us get full testing to determine why he struggles so much because without a diagnosis, he is simply labeled as a 'non-compliant, disruptive, behaviorally challenged child.'
I understand, fully, the need for better services for severely autistic children, but like other parents, I wonder, what will it mean for children like my son?
Related Articles:
---