Any child can wander away from their parents, but a report from the Interactive Autism Network found that autistic children are more likely to wander than neurotypical children. This comes as no surprise to some autistic parents, particularly those that have experienced a wandering child first-hand. For others, the news may come as a caution for the future.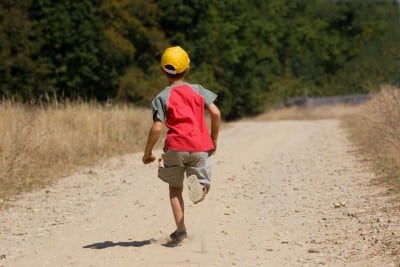 For their study, researchers used questionnaires from parents of 1,218 autistic children and their non-autistic siblings (1,076 siblings in all). They were looking specifically for how many children, ages 4 and up. This is a time in which wandering is atypical. Researchers also wanted to determine how many of the wandering children had disappeared long enough to cause concern. Additionally, they analyzed how much family stress the wandering caused.
After compiling the data, researchers found that 49% of the children with ASD, 4 and older, had tried to wander at least once. More specifically, 46% of the children between the ages of 4 and 7 had eloped; this was four times the rate of their non-autistic siblings. Between the ages of 8 and 11, 27% of children with ASD had wandered away; this was compared to just 1% of their unaffected siblings.
Data suggests that 5.4 is the age in which wandering is most likely to happen. During this time 29% of parents said their children had tried to wander several times a day; 35% said their children had wandered off at least once per week.
Researchers also found that a high number of ASD children had gone missing for long periods of time. On average, children who eloped went missing for 41.5 minutes, and 53% had disappeared long enough to cause concern. During that length of time, 65% had close calls with traffic and 24% had close calls with drowning.
According to Paul Law, the director of IAN, the data collected from their study is consistent with what families have been telling them over the years.
"Since the launch of IAN, we have heard from families of children with autism that their children often place themselves in danger by wandering or eloping," Law said. "These are the first published findings in the US that provide an estimate of the number of children with ASD who not only wander or elope, but go missing long enough to cause real concern."
That concern can cause a great deal of stress for parents. In fact, over half of the parents in the study (56%) said that elopement was one of the most stressful behaviors they had to cope with while caring for their autistic child. Even more concerning is that half of the parents with wandering children say they never received any kind of counseling in how to deal with their child's wandering behaviors.
"Parents often fear being viewed as neglectful when their children leave from safe places," Law said. "This study demonstrates that we urgently need interventions to address elopement and provide support to affected families."
So why are autistic children more likely to wander away? Parents in the study said their children ran away to fulfill a desire, satisfy a curiosity, explore, or get out of an uncomfortable situation. For this reason, researchers believe that the wandering is goal-oriented. Law also added that autistic children may lack the social skills needed to check in with their parents before wandering.
Law hopes that this information reaches parents, caregivers and medical professionals so that they can be aware of the risks. But he doesn't want the research to stop there; he also hopes that more studies can be done to better understand the reasons, types and preventative measures for ASD elopement.
Related Articles:
---
[ad]