When I am looking for a vacation spot for our family one of the big selling points for me is kid-friendly amenities. While luxury and location are first on my list, making sure there is lots for the kids to do is a big priority.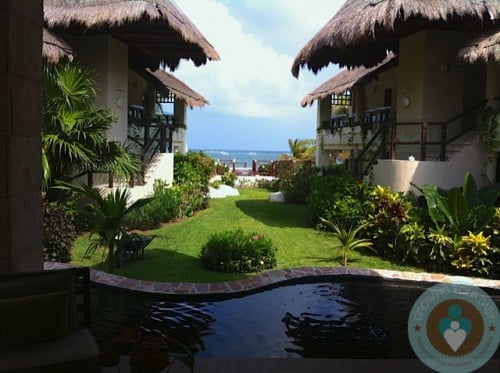 Last month I travelled to Mexico and stayed at the Azul Beach hotel. Impressed from the minute I walked through the door, my enthusiasm increased when I learned about the options offered for parents travelling with kids. On top of a long list of included amenities, Karisma Hotels also has a supply of baby gear like strollers, change tables, baby monitors, cribs, sterilizers and bouncers for families to use while they are visiting to reduce the stress of having to pack the whole house up before a week away.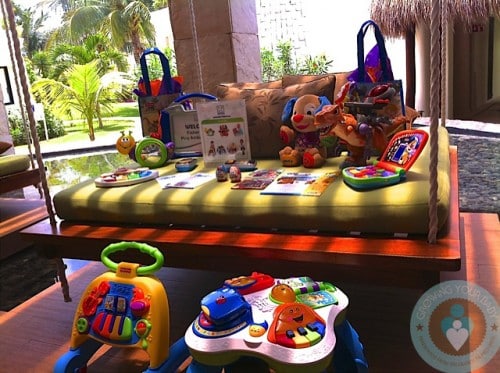 Their plan for families has been perfectly laid out but it doesn't end with gear.
A little over 4 years ago Fisher-Price teamed up with Azul Resorts to provide guests and their families with quality play options during their downtime. At check-in, parents are offered a toy menu that their kids can use for their full stay. The lending isn't limited to just the rooms either. Guests can also use a toy during their meals or at the pool, but those toys have to go back when they're done in that location.
Through their partnership, Fisher-Price created a manual for the Play Classes that all the child entertainment staff read to get a sense of their Joy of Learning philosophy. As you make your way through the resort you will notice that as well as being fully stocked with some of the best and most current toys, Karisma also uses many of their baby gear items like tubs, high chairs, booster seats, and bouncers.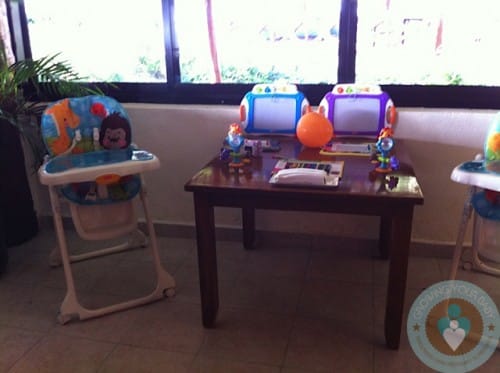 It's the little things…. At breakfast we noticed that the resort had set up an special table with tiny portions for their smallest guests and also had an area(behind the table) where staff would look after your kids so you could enjoy breakfast as a couple.
During my visit, I had the opportunity to tour Azul Beach's sister hotels; the Azul Sensatori and Azul Fives. While each resort has its own unique feel, the one common thread between the three was their commitment to families. Each property had an Azulitos Club, which provided kids an area to meet, do crafts, and burn off some energy while their parents enjoyed some time together.
For no additional charge, parents can drop their kids off (9:00 AM to 5:00 PM and 7:30 PM to 9:00 PM) and the staff will look after them while you enjoy some time on the beach or with your spouse. Like with most resorts, kids do need to be potty trained and over the age of 4. Little ones under 4 must be accompanied by a parent or a paid babysitter.
The club at Azul Beach was a good size (1600 sq feet) and full of every toy you could imagine. There was a crafting section, a place for tea time and doll play, and an indoor gym complete with a balance beam and mini trampoline.
Because the Sensatori is the biggest of the three resorts it's kids club was massive. Inside the playhouse kids can rock climb, practice their gymnastics, do crafts, bake, or play video games.
Outside there is a splash pad, water climber and a kids pool. This is by far the best kids area I have ever seen at a resort.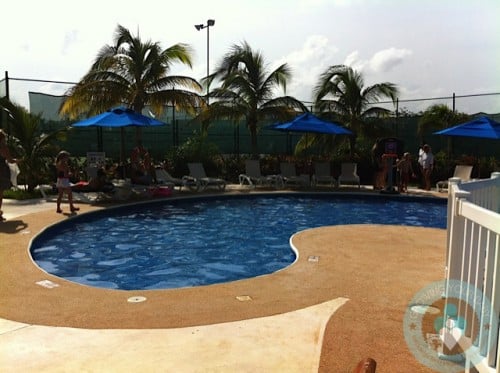 Azul Fives is about a 20-minute drive from Sensatori and Beach, but it offers a lot for little vacationers. Just a bit smaller than Sensatori, the Azul Fives has a large clubhouse, which is equipped with a play gym, a crafting lounge, a toddler play area, an outdoor climber, and a kid's pool.
The Little People theme runs throughout the three resorts and if you time it just right your kids may get a picture with Eddie and Sonja Lee!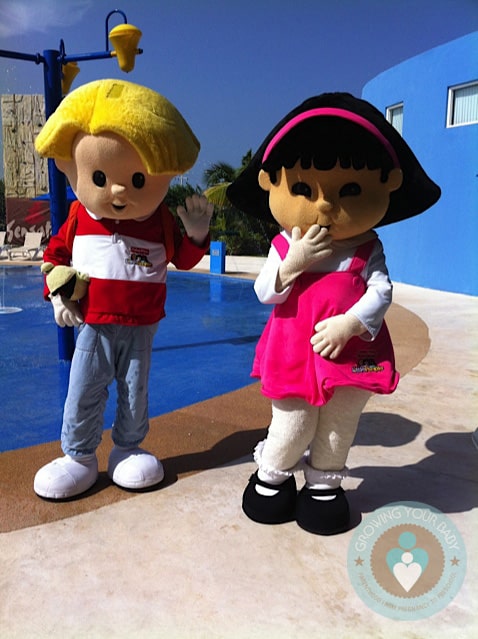 For more information on the Azul Beach resort, dining options and their beautiful rooms, please read my review, which is accompanied by more than 30 pictures!
---
* Thank you for Karisma Hotels and Fisher-Price for hosting me for my 3 nights stay in paradise.*