Baby Iver's arrival was a bittersweet moment for a Victoria family.  For the past two months the tiny baby had been growing in his mom's womb, while she was being kept alive to give him a better chance of survival.  This past weekend, a time that should have been one of the happiest, was one where Dylan Benson welcomed a new life, while saying goodbye to another.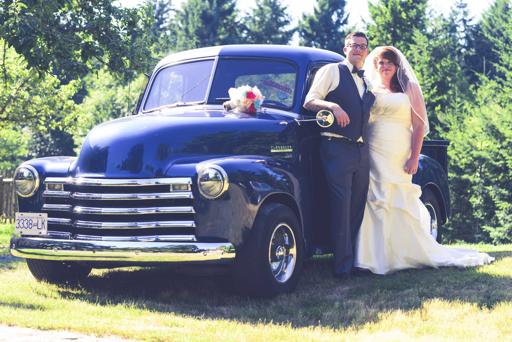 When Robyn Benson was five months pregnant she suffered a cerebral hemorrhage that left her brain-dead.  Determined to give the growing baby the best chance Robyn's body's functions were being maintained for the sake of the fetus.
The pregnancy had been progressing well until Dylan received a call from the hospital on Saturday letting him know they thought they may have to deliver that night.
"It is with a heavy heart but also with extreme proudness that I am posting this update," Dylan wrote on Facebook.

"Iver is healthy and is the cutest and most precious person I have ever met. As to be expected, it will still be a bumpy ride for he and I as he continues to grow under the care of the wonderful staff at the hospital."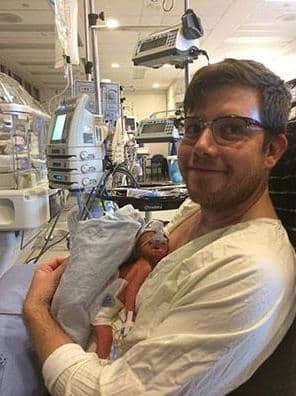 Iver was born at 7:12 p.m., weighing two pounds, 13 ounces, with a little bit of apricot-coloured hair, just like his mom.
"He's showing hints of Robyn's red hair, not surprising. But I think he has my nose," the new dad said.
Dylan was able to see his baby an hour after he was born and spent the night at the hospital before saying goodbye to his wife the next morning.
"On Sunday, we had to unfortunately say goodbye to the strongest and most wonderful woman I have ever met. I miss Robyn more than words can explain. I could not be more impressed with her strength, and I am so lucky to have known her. She will live on forever within Iver, and in my heart," said Benson.
Highschool sweethearts, Robyn and Dylan were together for 16 years.  Saying goodbye has been heartbreaking for him.
"I don't think I have the right words to describe it," said the new father on Monday night. "It's the best and definitely the worst thing to ever happen to me in my life at the same time."

"My first thought was just how amazing he (Iver) looked and … I guess it's just a massive, massive sense of relief that he was here and he had made it, and then of course the excitement of wanting to see him, and also the same amount of fear knowing that I would have to say goodbye."
Baby Iver is expected to stay in the hospital until May 2nd, his original due date.  Until then, Dylan plans to spend his time at the hospital kangarooing his baby boy and building the bond between father and son.
---
[ad]