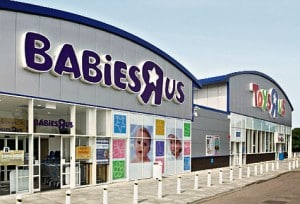 It's that time of year again! If you were looking for something to do with your drop-side crib, this is your event. Under the new law it can't be passed down or sold so bring it into for a discount something your baby might need.
Toys"R"Us, Inc. has announced it will host its fifth "Great Trade-In" event in Babies"R"Us® and Toys"R"Us® stores throughout the United States  from Friday, August 26 through Sunday, September 18, providing parents and caregivers with the opportunity to trade-in used and potentially unsafe baby gear in exchange for 25% savings on a new item. Since the company launched its first "Great Trade-In" event in August 2009, nearly half a million items have been turned in at its stores across the country. In an effort to help parents and caregivers remove even more unsafe products from circulation, four new product categories – swings, walkers, bouncers and entertainers – have been added to the "Great Trade-In" event.
The "Great Trade-In" event is a national safety program designed to call attention to the fact that certain used baby products, such as cribs and car seats, are not the best candidates to be handed down or resold. In addition to concern over recalled products that may still be in circulation, advances in product safety in recent years may have rendered older models unsafe and noncompliant with the newest standards. For example, new crib standards recently took effect on June 28 that prohibit the manufacture or sale of traditional drop-side rail cribs, strengthen crib slats and mattress supports, improve the quality of hardware and require more rigorous testing.
"As a company dedicated to children's safety, Toys"R"Us, Inc. continues to stay at the forefront of emerging safety issues and concerns, and is committed to offering parents and caregivers the safest products available," said Jerry Storch, Chairman and CEO, Toys"R"Us, Inc. "With increased product safety standards for items such as cribs, the 'Great Trade-In' provides an excellent opportunity to bring older, and potentially unsafe products, to our stores in exchange for savings on those that meet today's more stringent requirements."
Parents and caregivers can trade-in any crib, car seat, bassinet, stroller, travel system, play yard, high chair, walker, swing, bouncer, entertainer or kid's bed at any of our Toys"R"Us or Babies"R"Us stores nationwide, regardless of whether you purchased the item from TRU or BRU stores. You do not need a receipt to trade-in a used item.
Parents who are bringing back multiple items during the program will receive one 25% discount for each item traded in. Only one savings coupon can be used per each new item purchased. The new item must be in the participating product categories and from the participating manufacturers including Babi Italia®, Babies"R"Us, Baby Cache®, Baby Einstein™, Baby Trend®, Bergamo®, Bright Starts™, Britax®, Carter's®, Chicco®, Combi®, Contours by Kolcraft®, Delta™, Europa Baby®, Evenflo®, Graco®, Jeep®, Lamaze®, Little Tikes®, Maxi-Cosi®, Safety 1st®, S1 by Safety 1st®, Signature Series by Graco®, Sorelle™, Step2® and Summer Infant®.
---
[ad]