Have gear you don't need? This week Babies"R"Us announced their popular trade-in event would begin Sunday, February 11 for loyalty members, and Friday, February 16 for all customers.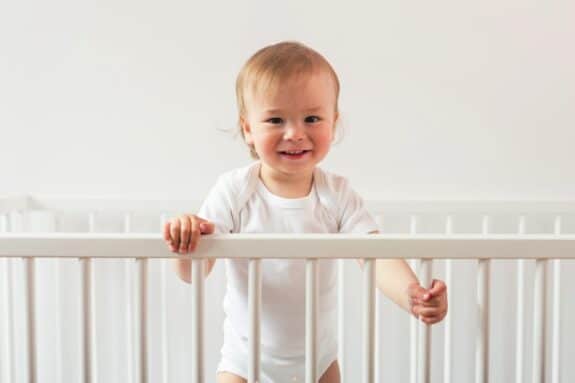 Dubbed the 'Greater Trade-In event' this year, the initiave urges caregivers to bring in their old, used, outgrown and potentially dangerous gear and furniture items in exchange for a 25% discount on one new gear or furniture item*.
It gets greater this year with the addition of the option for shoppers looking to donate old, outgrown or gently used clothing can bring in one or more clothing items for a 25% discount on their entire purchase of clothing in store, valid through Sunday, March 18.
Customers can now also trade in crib and toddler mattresses in exchange for a discount on new baby products.
Customers with an "R"Us credit card, will like that they are entitled to a 30% discount when trading in gear, furniture or clothing in store. If you are new to the parenting world and don't have anything to trade-in Babies'R'Us will be offering shoppers the opportunity to have a 15% discount on any one gear or furniture item at Babiesrus.com, and in-store only, shoppers will receive 15% off any one baby item From Friday, February 16 through Sunday, March 18.
Babies"R"Us stores currently undergoing liquidation will ofer customers a 25% coupon on their trade-in which can be utilized at local participating Babies"R"Us or Toys"R"Us stores or online at Babiesrus.com, valid through March 18.
All clothes donated by customers during Greater Trade-In will be donated to local charities across the country to help clothe children in need.
In the eight years of events, Babies"R"Us has been running the Trade-in event they have removed millions of unsafe products from the market, reducing the chance for children to be injured. According to the National Highway Traffic Safety Administration (NHTSA), used car seats may appear in working condition, but if labels or parts are missing, if the seat is past the manufacturers expiration date or the seat has been involved in a vehicle accident, its safety could be compromised. Families are encouraged to trade-in items that could be a potential danger.
As expected with such a large event, each of these offers comes with some exceptions. Please visit the BabiesRUs site to learn more about the promotion's terms and conditions.
ELIGIBLE TRADE-IN ITEMS:
bassinets
bouncers
car seats
car seat bases
clothing
clothing accessories
cribs
crib/toddler mattresses
entertainers
high chairs
infant chairs
infant swings
jumpers
playards
pop n plays
shoes
strollers
toddler/twin beds
travel systems
walkers