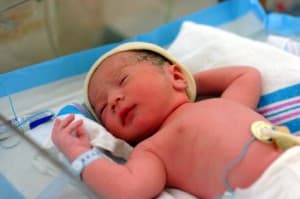 An unexplained baby boom left nurses at a Brooklyn hospital swamped and doctors scratching their heads last week after a record 74 newborns were delivered in just 48 hours.
The huge number of arrivals filled every one of the birthing center's 60 beds — forcing Maimonides Medical Center to rush in off-duty staff and open an extra medical wing to deal with the overflow.
"It was incredible," said the Borough Park hospital's spokeswoman, Eileen Tynion.

"Our veteran staff members tell stories about seeing sudden surges of babies being born at the same time, but nothing like this.

"Once or twice every year, we see 65 babies born over 48 hours. This many has never been seen before, and there was nothing we could determine that caused it."

Moms-to-be started turning up in large numbers Tuesday morning, said Tynion.

Hospital chiefs ordered a first-floor intensive care unit which has been closed last fall to be re-opened after every bed of the fourth-floor maternity ward was filled.

"Somehow, everybody got the care they needed," said Tynion.
Though the rush had slowed, the baby boom continued yesterday, as the birth total since Tuesday afternoon reached 97. The hospital usually handles around 20 deliveries a day.
Closings of maternity wards at other area hospitals has increased pressure on Maimonides, which has the borough's biggest and busiest delivery suite.
---
[ad]