When Kelly McPherson was 17 weeks pregnant, she had a fever and realized that something might be wrong with the baby. An ultrasound revealed her fears were right.   Her unborn baby had swelling around the heart, lungs and abdominal cavity because of excessive fluid deposition. Doctors later said it was because of a rare complication from common human parvovirus.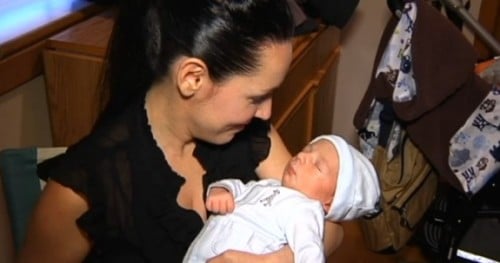 "It looked like a halo around his head," said Kelly to NBC.

"This baby was dying in its mother's uterus," said Dr. Martin Chavez, chief of maternal medicine at Winthrop University Hospital in Mineola, N.Y.
Dr. Chavez recommended the baby undergo an intrauterine transfusion. Traditionally this transfusion is carried out in the unborn baby's abdominal cavity but in Mesan's case the doctor advised a transfusion carried out in the heart.
The surgery was critical with the challenge being to operate on a heart the size of a dime. Using a thin needle about 8 inches long, Dr. Chavez transfused blood directly into the fetal heart.
"The needle could have caused cardiac arrest," said Chavez, describing the risky nature of the procedure.
Because of the small size the heart required only a small dosage of two teaspoons to show instant improvement.
Baby Mesan was born full term on Dec. 7 to mom Kelly and dad Scott. They had been trying for seven years for this second child.
"You do whatever it takes," said Scott McPherson. "It's a miracle," added Kelly.
Baby Mesan is now a healthy 1 month old and doing very well at home with his family.
---