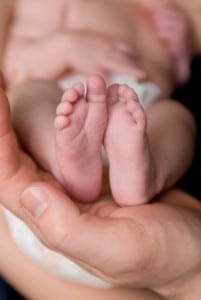 31 years ago, Ashley Marsden was born at home when her mother couldn't make it to the hospital on time. Years later, it was on the same day that Ashley repeated history when she didn't make it to the hospital and her baby boy was born on the I-15.
It was around 2 am when Ashley began getting her contractions. Ben, her husband, knew that it was time to head for the hospital and by the time he called his mother-in-law and started packing the car, he saw Ashley was in pain on the couch.
"By the time I got back from the car, she was on the couch hunched over," Ben said. "The contractions were getting really close. We got her into the car at 2:20 and by the time we got to the Maverick station she told me she thought he was starting to come. I said, 'What do you want me to do?' she said, 'I don't know but he's coming.' "
Thinking the baby would most likely be born in the car, Ben called 911 for some guidance.
"We were hitting the 12th Street exit at about that time and I told the dispatcher, 'I think we're going to have a baby in the car,' " he said. "She could hear Ashley in the background and she told me I needed to pull the car over."
The dispatcher Robin Carpenter told Ben that he would probably be the one delivering the baby and they would not make it till the hospital.
Ben said, "She told me I needed to see what was happening. I was panicking inside like you can't believe. I went over to Ashley's side of the door and told her I needed to check and see what the baby was doing. We got one leg on the dashboard and the other on the door. I could see the baby's head. It was crowning."
The dispatcher told Ben to place his hands behind the baby's head and apply pressure. And although Ben was telling Ashley what that the dispatcher was telling him, she was too focused to listen.
"She told me not to stop anything, but just to let it happen," he said. "I was telling Ashley everything the dispatcher was saying but she wasn't hearing anything. She was just pushing.
"With the next contraction the baby's head popped out. I told the dispatcher the baby's head was out. Now what do I do? I tried to stay calm. I didn't know how to get the rest of his body to come out."
A couple of more twists and turns and Baby Hawk Benjamin Marsden made his way into the world in his parent's car, on his mom's birthday and on the side of the freeway.
Ben recalls it as one of the most amazing things. They didn't have anything to clean his nose or mouth with but the newborn gave a little gasp and immediately Ben handed him to Ashley who instantly went into the mommy mode.
But the drama wasn't over yet as Ben still had to cut the umbilical cord.
"She told me to use my shoelaces, and of course, I was wearing flip flops," he said. "I had to find something fast so I pulled off the elastic band that holds your sunshade together in the car and used that to tie off the cord. When I was finished, I looked up and saw the fire truck. They jumped out and relieved me and I was able to take a breath."
Baby and mom were taken to McKay-Dee Hospital by ambulance.
Ashley says the whole incident was pretty unexpected as she wasn't due for another week and a half and had planned on hypnobirthing, the way she had delivered her third child.
"It's very calming, very peaceful. I was practicing every night," she said. "And then I was taken completely off guard. It just knocked me right off my feet and I didn't have time to gather myself. I was just panicking. We're in the car. We're on the freeway and we're not going to make it."
It was perhaps the practice that helped as Ashley says she could not hear a word Ben said but just concentrated on pushing and delivering the baby.
"I don't think I was clued in on what was happening. It was almost like an out-of-body experience," she said. "I just feel so grateful there weren't any complications. For some reason he had to get here and he had to get here right now."
Now home, Ashley said she's excited to share a birthday with her newest addition.
"It's not the way I expected to celebrate my birthday but it ended up being very special for me," she said. "I think it's pretty neat that we both came into the world unexpectedly like we did. That's a story we'll be able to share and I can't wait to tell him all about it."
The story of his birth will definitely be one that he'll love to hear the most as Baby Hawk Benjamin grows up.
Related Articles:
---