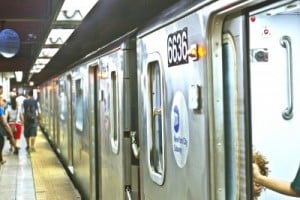 Just a couple of days ago, an infant barely missed being hit by a subway train. Yesterday, one was born on it.
Wanda Dueno, 24, wasn't due to deliver her second child until July 1st; apparently her son had other plans. What started out as a ride to visit her sister in The Bronx after visiting some friends in Queens soon turned into a delivery on the J train at Chamber's Street.
She was alone when the urge to push came, so she pressed the emergency button. By the time the conductor, Veronica Stevens, arrived, Wanda was already holding her beautiful baby boy.
Stevens was ecstatic about the delivery. "I had my first train baby," she told reporters.
Wanda's family was excited to welcome the new family member, but initially thought she was lying about delivering on the subway.
"She called to say she had the baby on the train. I was like, 'What! You had the baby on the train? You're lying,'" Wanda's mother, Charlotte Mbaye told reporters.
MTA transit chief Joseph Lhota reported that mother and baby are both healthy and in good condition. Lhota also says he has a great name idea. "I'm looking forward to meeting this little baby. I want to have something to do with naming him Metro or something like that."
Even Wanda's sister joked about naming the baby after the form of transit he was delivered on.
"You could call him…MetroCard?" Wanda's sister suggested.
But it seems that neither Wanda's sister nor Lhota will win out. Wanda reported that she is going to either name him Chris or Libasse (or both), but definitely not Metro-anything.
Well, no matter what the baby's name ends up being, we're happy to hear that he and mom are both healthy and recovering well. Congratulations to the new mommy!
Related Articles:
---