Starbucks doesn't deliver, but Matt Dolber of Long Island, New York does!
Matt and wife Casey were on their way to the hospital for the birth of their child, but the baby had a schedule of her own and was in a hurry. Casey says her contractions had been irregular when the headed out, but that changed suddenly on route to the hospital.
At first, Matt thought his wife was joking when she told him that they wouldn't have time to get to the hospital, but he soon realized that the baby really was mere minutes from arrival.
With their 2-year-old son Chase watching from the back seat – the couple had no time to drop him off with friends as planned – Matt pulled the car off the road into a Starbuck's parking lot and called 911 for help.
The emergency operator kept the flustered daddy calm.
Holding the phone to his ear, Matt followed instructions and helped his wife deliver their daughter. The operator even told him how to wrap the newborn in his shirt before placing her in mom's arms to keep her warm. Matt tied off the umbilical cord with his shoelace.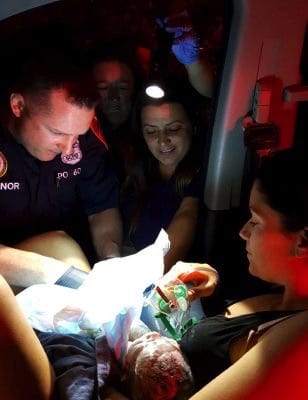 The baby is the couple's third child.
Little Chase saw the whole thing from his perch in the back seat, and his mom says "he was probably scared because I was yelling a bit." To calm Chase, Matt brought the boy over the back seat after the delivery and introduced him to his new baby sister, Sailor Jewel Dolber.
Then it was on to the hospital where mom and Sailor checked out fine.
That Starbucks celebrated the event with a special offering: the Sailor Latte.
---
[ad]