Cabin crew on a Turkish Airlines flight turned into a team of doulas over the weekend when a passenger went into labour shortly after the flight took off.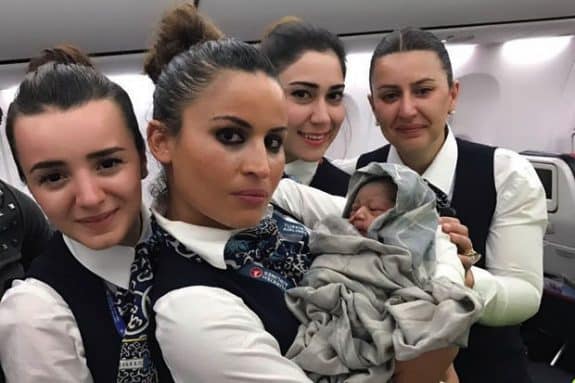 Headed to Istanbul from Guinea's capital Conakry, the plane had hit 42,000ft when the crew noticed a woman suffering labour pains.
Passengers and the crew all worked together to help bring the baby girl into the world.
Following the successful birth, the airline workers – and captain – were excited to pose for pictures with the newborn.
Bouthayna Inan?r, one of the flight attendants who helped with the birth said: "The mother gave birth while standing, and we received help from several passengers."
Once the plane landed, the mother and baby, named Kadiju, were taken to hospital where both were reported to be tired but in good health.
The crew reported the mom-to-be was just 28 weeks pregnant but a baby born at that early gestation(12 weeks early) would have only weighed a mere 2.5-3lbs and should have needed assistance breathing.  The baby in the pictures looks to be much bigger so the mom must have been further along.
Most airlines allow expectant mothers to travel until they are 36 weeks pregnant but require a signed letter from a doctor from 28 weeks onwards which confirms the expected date of birth.
---
[ad]