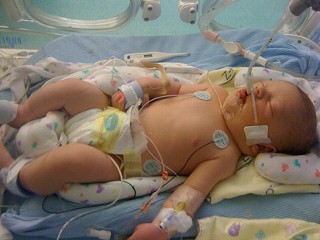 Even though little Houston Tracy is only 12 days old, he has already survived a rare birth defect and open heart surgery. Houston was born with what is called "transposition of the great arteries", meaning that the two major vessels that carry blood away from the heart become switched.
Shortly after Houston's March 15th arrival his parents knew that something wasn't right.
"When he came out, he made one little cry and he didn't really cry much," said Houston's father, Doug Tracy, 39, of Crowley, Texas.
Doug cut the umbilical cord and watched the hospital staff clean his son. But before his wife Kim could hold the baby doctors got worried.
"We could tell there was something wrong by the way they [the doctors] were acting," the new dad said.
He wasn't turning pink like newborns normally do after they are born, which caused doctors to transfer him to the local Children's Medical Hospital for more specific care.
Hours later he was diagnosed and successfully came through surgery 3 days later.
On March 18th, Doug and Tracy applied to their insurance to have the corrective surgery covered, but were denied saying that for Houston this is a "pre-existing condition."
"They kept saying it's preexisting, it's preexisting, but I don't know how it can be preexisting on a baby that was just born," Doug Tracy said. "If it's mandated that everyone have health insurance, than how can one be denied?"
While the Tracy's, who are both small business owners, don't carry health insurance for themselves, they do have insurance on their two other children.
Before he arrived the couple called Blue Cross and Blue Shield of Texas twice in preparation for his birth and asked if they could get a policy on him before he was born.
They were then told to apply online as soon as he arrived – which they did.
The Blue Cross Blue Shield of Texas told ABC news they,
"would automatically cover newborns of parents who already had a policy with them for 31 days. After that time parents could opt to include their baby on their plan whether or not the child had health issues. For children whose parents are not BCBSTX members, who want child-only coverage, we offer individual policies, beginning at the age of 60 days."
The problem is that the condition Houston suffers from is one that is rarely ever discovered prior to the birth of the child and in order for him to survive, surgery had to be done immediately.

While legislation passed this week by Congress and signed by President Obama would end the practice of denying coverage to patients with pre-existing conditions, it does not go into effect until September.
For now, the couple is looking other options to get Houston covered. The good news is that the surgery was huge success. Houston is expected to have a normal life, and likely won't even need medications.
---