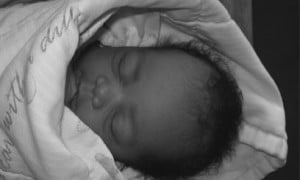 A Kenyan couple was left speechless after they discovered that their newborn baby boy was born with twenty eight prenatal teeth. Martha Muthoni first noticed her son's teeth when she began breastfeeding him. She felt an unnatural feeling almost as if he was biting, which she did not recall when nursing her other children. Baffled, the new mom opened the baby's mouth which revealed that her newborn child had twenty eight prenatal teeth.
Frighten by this discovery and in utter disbelief Martha called for her husband for a second opinion. Her husband, who upon first hearing the odd tale dismissed his wife's crazy tale was finally convinced to look into the child's mouth, shocked he handed the baby back to his wife and walked away.
Martha took the child to a local dispensary and was referred her to the Provincial General Hospital so a specialist could examine the baby, where they advised Martha to bottle feed her baby.

Martha commented, "This phenomenon has baffled us all; even my parents are shocked because such a thing has never happened in our living memory".
Martha's neighbors were terrified of her child at first; many of them would not enter Martha's home for fear that her son had other spiritual powers.
"At first I feared to enter the house, as I did not know what other powers the baby had. But when I noticed how strong Muthoni was I decided to stand by her side. Now everybody is slowly coming to terms with the phenomenon and willing to accept baby Mwangi as one of us in this village".
Medical specialists still do not know what caused the child to grow twenty eight teeth while in the womb, but are positive that it is a hereditary issue. – Jeff, Staff Writer