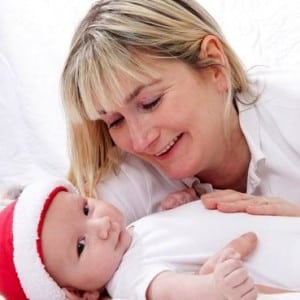 Two-month-old Roman has a very special place in his mother's heart. It is because the little boy has brought the joy and smiles back in her life after a tragic house fire killed four of her older children two years ago.
45 year old Rachel Henson calls her little boy a miracle baby and one who brought meaning back into her life. The mother dealt with a heavy blow two years ago when Tommy, nine, Alisha, six, Rocco, four, and two-year-old ­Appolonia perished in a house fire.
Rachel says this year's Christmas is vastly different from last years for her when she could not bear to celebrate without her children.
"All I could think about was how my kids should have been there to rip open their presents and fill the house with excited giggles," she says. "Instead I was taunted by ­harrowing images of how they had died."

"But this year I have a beautiful baby boy who has given me a reason to live again. He really is a little miracle.

"I will never get over losing my other children, but Roman has given me a reason to celebrate. I've decorated a tree, and instead of feeling as though my life is over, I will try to enjoy the day, knowing I've been given a second chance at happiness."
It was in January 2011 when a stray spark from a newly installed fireplace triggered a blaze in their family home at Hulland Ward, Derbyshire. The family slept as their house was soon engulfed in fire.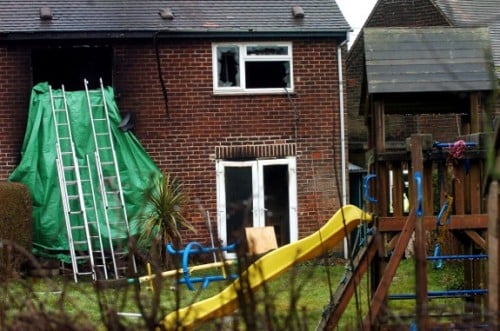 Rachel was woken by Tommy who noticed the black smoke. When she tried to coax the boy to jump from the bedroom window, Rachel herself accidentally fell out into the garden. Fire fighters arrived at the house, but were just not in time to save the four children.
Fighting back tears, Rachel recalls, "I felt like my world had ended that day. My children had always been what I'd lived for. There seemed no point carrying on without them. They were lovely kids. For a long time I'd brought them up by myself and we were all so close. All of them loved ­cuddles and would curl up on the couch with me. I ­treasured those ­precious times."
She also fondly remembers what each of her child was like and loved to do.
"Appolonia was like a little princess. She loved anything pink and girly. And Alisha loved having a baby sister. She would play mum all the time, helping me to wash and dress her. The two girls would later play dolls together and loved dressing up.

"Rocco could be mischiev­ous, but he only had to smile at me and I would melt. And Tommy was a quiet little soul but very sensitive and would always come and give me a hug if he sensed something was wrong. I miss them all so much."
Rachel met her fiancé Clint three years ago. She says the family used to love celebrating together whether it was birthdays, Christmas or New Year.
"Whether it was birthdays, Christmas or Bonfire Night, we always made an event of it. The November before the children died, we went to a big firework display. They were mesmerised."
Her children's last Christmas was as special as each year.
"Every year I always bought a 7ft real tree and the kids would all ­clamber round to help decorate it," she says. "Tommy and Rocco would place the baubles while Alisha would carefully wrap tinsel around it. Appolonia's job was to turn on the lights. Her little eyes would twinkle and she would clap her hands excitedly.

"On Christmas morning the kids would be up at the crack of dawn, desperate to open their presents. I loved seeing their excited little faces… it was so magical. I would do anything to get those special moments back."
Quite a contrast, two days before last year's Christmas, Rachel had to deal with her children's inquest when the coroner also criticised her for having drank wine the night of the fire.
She recalled painfully, "It was inferred I was drunk and had fled from the house instead of trying to get my children out. It broke my already shattered heart. I'd have done anything to save my kids."
It was only when Rachel was recovering in Derby Royal Infirmary that she learnt about her children.
"I asked a doctor how many of my children were alive. I will never forget how he slowly shook his head. There couldn't have been a worse pain. I kept looking at my arm which was imprinted with Tommy's fingernails where he'd gripped me. It was all I had left of my once beautiful children."
Rachel and Clint moved away while the house was being rebuild, but have moved back in March. She says it was difficult but had to be done.
"I felt I had to come back and face this," she says. "I read about soldiers going back to battlefields. I think it's like that."
It was a hug shock for her when Rachel found that she was pregnant. She says she finally has something happy to focus on. When she gave birth in October, it was like bring happiness back in her life.
"I just cried and cried. I had so much love stored up I could now give to my son.

"Roman can never replace his brothers and sisters, but he gives me a reason to get up every day. As he grows up I will tell him about Tommy, Rocco, Alisha and Appolonia. I know they would have loved to help him unwrap his gifts this Christmas."

"Last year was just agonising, but this year, instead of wishing the day away, ­Roman has given me a reason to enjoy Christmas. It's a feeling I thought I'd never experience again."
---
[ad]