Not even a year old,  and one baby boy has faced more than many do in a lifetime. Jackson Thomas of Overland Park was just seven months old when his parents first discovered that their baby had liver cancer. Two transplants and many challenges later, the brave boy is now on his road to recovery.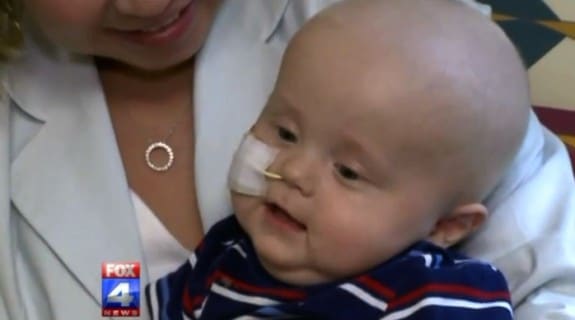 When Terry and Lee Thomas, Jackson's parents noticed some bloating, doctors found a lump on one side of his torso. Tests revealed that the baby boy had hepatoblastoma, a liver cancer.
"It's just devastating. It's like the whole world is over for us," said his mother, Terry.
Chemotherapy was the first option, but it wasn't working well enough and the tumor wasn't shrinking.
"In Jackson's case, we couldn't take the tumor out surgically without taking the entire liver out," said Dr. Walter Andrews, a transplant surgeon at Children's Mercy Hospital.
The baby boy was in urgent need of a liver transplant, and on May 14th he got his first donor liver.
Unfortunately, three days after the operation doctors found that the blood was not flowing from the arteries to the new liver.
"We were so happy the first time. Oh yeah. And then, oh my God, it's not working. And then oh, yeah, we got another," said his mother.
As a surgery could not correct it, Jackson had a second liver transplant. He became the 1,000th recipient of donor liver at the hospital.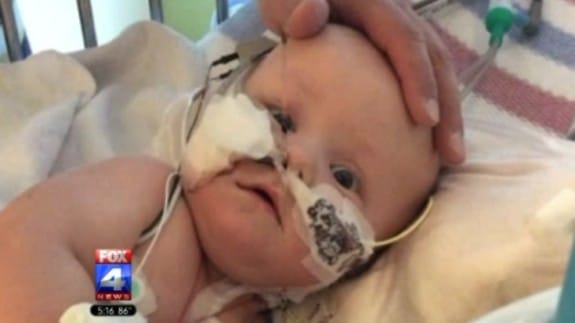 After spending the last four months in the hospital, now at 11 months, Jackson is finally showing signs of improvement as the second liver is functioning well.
"We expect the new liver to function for his whole life and we follow these kids very closely to make sure that happens," said Dr. James Daniel, a liver specialist at Children's Mercy.
His parents are most thankful to the two families that donated the livers at such a crucial time.
"I'm so grateful to the donors' families. They saved our little boy's life, you know?" said Terry Thomas.
Hepatoblastoma strikes about 100 babies and children in the United States each year.
Baby Jackson will have three more chemo sessions now but doctors are positive his cancer will not return.
---
[ad]