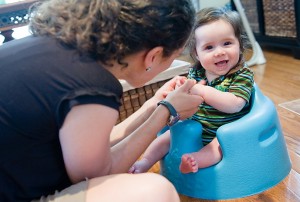 Suzanne Libby, a first-time mom, and her husband Reed, 36 were enjoying their new found status of parenthood when Suzanne discovered her baby boy Spencer, missing from the hospital nursery.
When the new mom's frantic search led her into another woman's room where she found Spencer, the initial joy was replaced with shock and anxiety when she discovered that the baby had been breastfed by that other woman.
"It was the worst moment of my entire life," Suzanne said, when she realized her son was missing. "On top of that, to find that another mother breast-fed him, without my knowledge, without my consent, was horrid. . . . He was exposed to someone else's body fluid."
Suzanne had delivered a healthy 7 pound, 3 ounce boy on January 30 and as they had not yet named him, his hospital wristband said, "Libby Bb," for "Libby baby boy." He had a head full of dark hair and the nurses had put a blue knit cap as soon as he was born.
The first day the baby stayed in her room while she breastfed him every few hours and recorded the time on a clipboard hanging on his bassinet. The next day she felt exhausted and at around 4.00 pm Suzanne decided to let Spencer, whom they had finally named, be taken to the nursery. A hospital aide helped Reed do that after which he went home.
Two hours later when Suzanne came to the nursery to check on Spencer she found three babies there with only one dark haired and he was wearing a white cap. She asked if Spencer's hat had been changed and when the staff said no Suzanne panicked as did the staff. "There's no baby in there with a blue hat."
The search began and suddenly Suzanne noticed a baby with dark hair and blue hat in another woman's room. The aide standing there said 'Libby, Libby' in a confused manner while the older woman said "But he looks just like our baby."
Suzanne started screaming& crying and went to her room where Spencer was brought to her. As Reed rushed back to the hospital Suzanne made the shocking discovery that the feeding log had an entry for 5.43 pm in someone else's handwriting.
It took the hospital officials two hours to come to the Libby's and tell them that the aide had in fact neglected checking the ID tags given to Spencer and the woman which led to the mix-up. They also confirmed what the parents had suspected, "Your baby was breast-fed by another woman."
The next day officials informed them that the blood test performed on the woman showed negative results for HIV, Hepatitis B or C or any other disease that can be passed through breast milk.
The Libby's nevertheless were not satisfied with verbal communication and they had been pursuing the hospital to send them a written document proving that Spencer has not been exposed to any disease due to the neglect. Their concern is mainly for other patients so that this mishap does not happen again.
Last month the hospital's risk-management officer, Susan Richardson, sent a lawyer hired by the Libby's a regret letter that said "Please know that after looking into the matter the Virginia Hospital Center has no knowledge of anything indicating that the woman who breast-fed Spencer Libby on Jan. 31, 2010, exposed him to any disease, toxin or other harmful substance."
There are no official records of how often mix-ups happen at hospitals as many states do not need hospitals to report them but at least eight such cases have been recorded over the past few years.
Some experts feel that the risk to the newborn is minimal but federal authorities claim that as there is a threat of possible HIV exposure or other diseases, breast milk mix-up should be taken seriously and regarded like any other exposure to other body fluids.
What many also believe is that this case highlights another problem- that of wrong patient identification.
The Virginia Department of Health is investigating the incident after receiving a complaint for the Libby's.
A recent episode of the popular TV series 'The Office' showed a similar incident and it has triggered back memories for Suzanne although she knows it was not her husband as shown in the series but the hospital's fault.
She also says,
"I know it wasn't my fault, but I feel like the first 24 hours of my baby's life, I failed to protect him. There was a period of time where I don't know whose care he was in. . . . And every time I think about his birth, this is what I think about."
– Atula, Staff Writer
Related Links
---