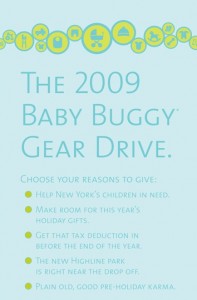 In order to have adequate product to distribute to families in need this holiday season through 2010, Baby Buggy is holding a Gear Drive in NYC starting today running through Saturday. The non-profit organization is looking for new and gently used strollers, high chairs, bassinets and front carriers.
Families who bring their children on Saturday can help create cards for Baby Buggy recipient families and enjoy Eleni's cookies.

Where: The Caledonia- 16th Street between 9th and 10th Avenues (Under the Highline)
Sponsors include:
Highbridge Capital Management- Drive Sponsor
The Related Companies- Venue Donor
Maclaren- Stroller Sponsor
BabyBjörn – Front Carrier Sponsor
Clek- Booster Seat Sponsor
Method- Cleaning Product Sponsor
Pledge cards will be available on-site for people to make financial contributions towards Baby Buggy's purchase of these items.
Baby Buggy, founded in 2001 by Jessica Seinfeld, is a non-profit organization dedicated to providing New York City families in need with essential equipment, clothing and products for their infants and young children.With an extensive network of community based organizations in the five boroughs, Baby Buggy has donated over 3.9 million items to thousands of children and parents. Visit www.babybuggy.org
---