One Mira Mesa post office was delivering more than mail this week when a couple was forced to stop there on the way to the hospital and ended up having her baby in the parking lot!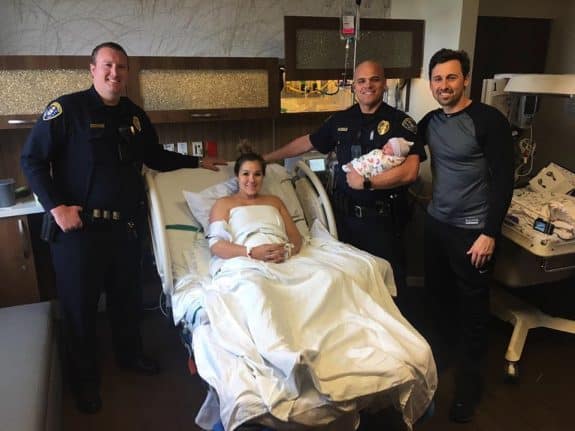 When Vanessa Prado started having contractions in the middle of the night on Thursday she thought she could just hop in the bathtub to ease her pain.
But shortly after, when her water broke, she called her boyfriend, Dennis, and the pair packed for the hospital.
While Dennis tried to remain calm, he knew it was 'showtime'.
In the car, he tried to get Vanessa to slow down the baby, which seemed to be coming out faster than expected.
"I tried to tell her, hold on, keep your breathing, let's just try to make it there as quickly as possible," Dennis recounted to NBC San Diego.
The couple only made it a couple blocks when Vanessa noticed the baby's head crowning. With two choices of where to park, McDonalds or the Post Office, Dennis chose the Post Office and called 911.
As luck would have it officers were on patrol just a couple blocks away and made it to the scene in just 2 minutes.
Officer Hustad said from there, instinct and training took over.
"This is it, this is the stuff that you prepare yourself for," Officer Enderlin recalled. "It honestly just happened so fast. All of a sudden, I'm like, 'Oh my Gosh,' holding the baby."
It was just as crazy for the new mom.
"Honestly, he just came out so fast and then Matt held him and after he said, 'I got him, I got him,' I couldn't even go to grab him, I was just so relieved the pain was over," said Vanessa, who is studying to be a nurse.
Moments later paramedics arrived on scene and the officers went with the family to a nearby hospital where six-pound newborn Pierce Dillard was checked out by hospital staff.
"We joked that we were going to name him Pierce Postal, but I don't think that's going to happen," Vanessa said, laughing.
---