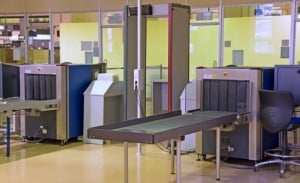 There has been a lot of talk about security and air travel this week. On Tuesday we wrote about a baby being patted down by security agents at the Kansas City International Airport.
Now it is being reported that, a Dallas family traveling with their 7-month-old Bruce Ankenbrand had their baby food seized by TSA agents after it was found to have traces of explosives on it.
Kimarie Ankenbrand, Bruce's mother was both shocked and frantic to find out that her small packages of baby food tested positive for traces of explosives. The baby food itself, which is organic and contains no chemicals, was not tested.
"I said, 'That's the only food we have for him. We're getting on a flight, a three-hour flight."
The baby's mother pleaded with a TSA supervisor for more tests or to squeeze the food into another container, but her request was refused.
"Oh my God," said the exasperated mom. "You're telling me we're going to starve a 7-month-old child? We're getting on a plane."
Initially TSA officers believed that explosives detection device might have given a false positive as there are many legal substances that can cause alarms on explosives detection machines, some examples are traces of fertilizers and heart medicines. But "repeated testing of the items failed to clear the alarm," a statement released by the TSA revealed.
"In an abundance of caution, the items were not allowed to proceed beyond the checkpoint and will be properly disposed of."
Thankfully the TSA allowed the family to fly after taking all the circumstances into consideration. The baby's mom later said that she and the Bruce made it to Chicago with no trouble. However, she said she thinks there could have been a better solution.
I am surprised at how unhappy this mom is.  Her baby food packages tested positive for explosives and she thought that the TSA was going to allow her to take that food with her? It's not just about her.  It's about keeping a whole plane or even airport full of people safe.
---