It was a timely discovery that likely saved the life of one tiny baby. But sadly, the newborn, who was found discarded in dumpster still remains in critical condition at the hospital, despite being rescued by a caring resident.
Police were called to an alley in Dalhart, Texas on Saturday night by a man after he noticed the body of an infant in the corner of the dumpster. When the man realized the child was not a doll, he climbed in the dumpster, wrapped the baby in a towel and called 911.
Once on the scene, paramedics determined that the infant was less than 24 hours old and he could have been in the bin for 5 to 6 hours.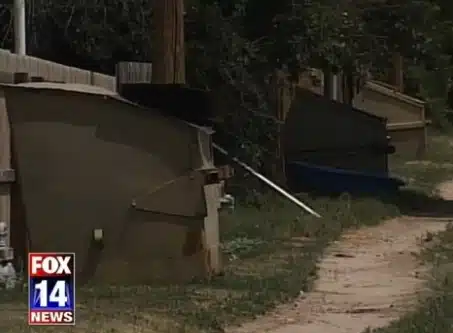 The tiny newborn was transferred to Northwest Texas Hospital by ambulance and admitted to the neonatal unit of the hospital where he is said to be in a critical condition.
Police arrested the baby's mom, 21 year old Shonnie Smalley on Sunday morning. She has been charged with child endangerment and is currently in the Dallam/Hartley County Jail with a bond set at $50,000. If the baby dies, police say, those charges with be upgraded to murder.
Police are investigating the case and say that the father of the baby has not yet been identified.
As Baby Moses law or the Safe-Haven law is applicable in Dalhart, there are 'Safe Drop-Off' points in the city where unharmed infants can be surrendered with no questions asked. These points are at the EMS building, the Sheriff's Office, or the Emergency Room of the local hospital.
The mother was 35 weeks pregnant when she delivered the baby and tossed him in the dumpster.
"This investigation continues and we find anyone else that was involved in this or tried to cover this up, rest assured they will be charged and put in jail just like she was," said Gary Sinclair, the Dalhart Police Chief.
Residents of the town are justifiably shaken by the incident. Sherri Haschke, a partner at Full Circle Insurance Agency in Dalhart, told Amarillo.com she was in disbelief after hearing Brooks'(the name given to him by hospital staff) story.
"She could have dropped that baby at anybody's doorstep," she said. "Anybody in this town would have found help for that baby. Anybody."
The First Baptist Church at 1000 E. 16th Ave. in Dalhart has been designated as the official drop-off point for community donations. Contact the church at 806-244-5584 for information.