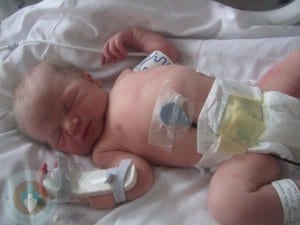 Heather and Andy from Darwen, Lancashire were looking forward to the birth of their baby daughter Charley-Marie Skinner. But an ultrasound in the 21st week revealed the baby had a tumor in her heart which doctors believed would be fatal. While the parents rejected the advice of experts to terminate the pregnancy, they themselves did not realize that Charley's fighting spirit would actually help her survive well beyond pregnancy.
When mom of five, Heather went for her 20 week ultrasound, it was revealed that she was expecting a baby girl.
The following week when she went again to ensure the baby was growing normally, the news was not good. It was then that doctors found the baby was suffering from a condition called Tuberous Sclerosis, which causes benign tumours to grow on vital organs. Her condition was life-threatening and therefore the specialists suggested terminating the pregnancy.
Heather said, 'When the doctor said there was nothing they could do and that I needed a termination, I just said: 'no way. I didn't want an abortion. I wanted nature to take its course. The thought of losing my baby was awful. I didn't know how to deal with it. We were left in a room and just cried.'
Heather and Andy decided to continue with the pregnancy but were constantly concerned about the possible loss. They were assigned a specialist midwife to deal with the difficult time but the couple also had to tell their other kids that they might not see their baby sister.
'It was heartbreaking having to tell the children. They were so quiet. Every day we wondered if today would be the day she died inside me," says Heather.
They bought moulding kits to preserve hand and feet impressions of their baby and instead of buying new clothes for her they bought identical blankets, one to wrap her around when she was born and the other to bury her in.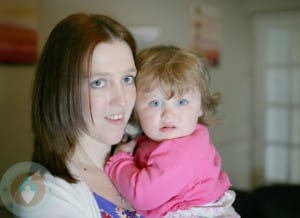 But then a miracle happened.  Charley-Marie survived her time inside the womb and was born in January 2010 via C-section three weeks premature.
"All I wanted was to see her eyes. The doctors still said that she would die as the tumour was so big it would stop the blood flow around her heart. But she cried, she was breathing and doing everything that a newborn does," said Heather.
'Straight away they took her down to the neonatal intensive care unit and scanned her heart. The tumour was inside the entire left chamber but somehow her little heart was still finding a way to pump blood around.'
The baby's body had found a way to pump blood in spite of the tumor. The first 48 hours were critical but as more time went by, the couple and the doctors knew that the baby would survive. Three days later they brought Charley-Marie home.
51 year old Andy, said,'We came home and just in the car on the drive way. We didn't know what to do next. We were numb. We hadn't bought anything for her – just the clothes and blanket to bury her in."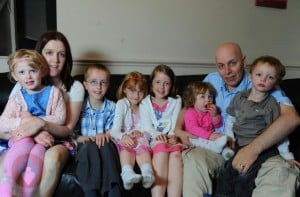 The situation was still critical as they feared that Charley-Marie might not be able to make it as she grew older. They even moved their wedding forward so that their baby girl could be a part of it.
Heather said: 'We'd planned a big, white wedding in our local Cathedral but we wanted Charley-Marie there so we got married when she five-weeks-old.'
But nineteen months later, the toddler is still going strong.
Heather said, "She's our little miracle. She's proved everyone wrong and shown she's a fighter.

She's just started walking and sometimes she gets out of breath, which worries me, but she's like any girl her age. She's loves Peppa Pig and always has a cheeky smile on her face."
As tuberous sclerosis is a genetic condition the couple asked tests for the entire family and it was only then it was found that Andy and their daughter Emma-Jean too suffer from the same genetic problem.
Three year old Emma has a tumour behind her left eye and two smaller ones in her heart. Andy has also had several benign tumours during his life but it was not known earlier.
'Finding out that Emma-Jean and Andy have Tuberous Sclerosis has definitely saved their lives as now we know what to watch out for and they can be closely monitored for any problems," said Heather.
The family is also presently not thinking about what future might hold for their little girl.
Heather says, 'They have no idea how Charley-Marie's heart will cope as she gets older. They don't think that the tumour will ever shrink but may in fact grow with her. We just have to watch her and hope for the best."
---
[ad]