Little Addison Cox is a beautiful nine month old and it takes more than a closer inspection to realize that she is actually fighting stage four melanoma, a deadly form of cancer. What makes the situation even worse is the fact that the cancer was passed on from her mom while she was still in the womb.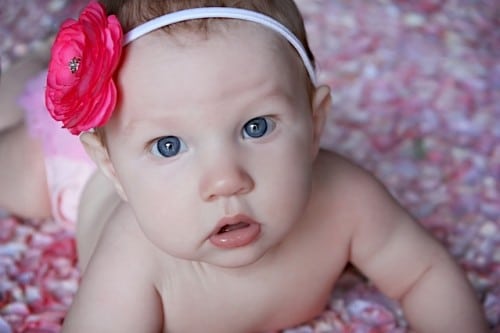 Briana Cox, Addison's mom and a former Phoenix police officer and military vet, was diagnosed with stage four metastasized malignant melanoma, first in 2006.
"The first stint with melanoma was in 2006," James her husband recalls. "She had surgery, they had clear margins, and everything you could ask for. It went well."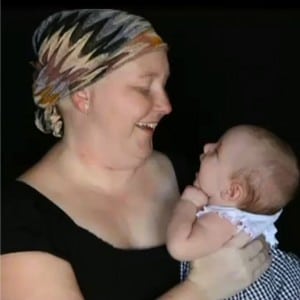 Briana was cancer free but she continued to go for routine checkups regularly to ensure that the cancer had not come back. Six years went by with check up at every three months at first, then every six and finally once a year. Then in June 2011 Briana had a seizure, just a month after she had given birth to Addison.
"They found she had metastasized malignant melanoma and it spread pretty much through her whole body, shoulder, lungs and brain, brain being the worst," James said. "We asked, 'Why didn't anyone catch this?'
Doctors said that because the symptoms of melanoma like mild memory loss and fatigue were similar to that of pregnancy, they might have been overlooked.
Briana's immediate concern was her daughter.
"Doctors told us it wasn't possible for Addison to get cancer while Briana was pregnant with her, that's just unheard of," said James.
But tests revealed, the cancer cells had indeed spread into the womb. Addison was as badly affected as her mother.
"It's very similar to her mother's — in the brain, one in her shoulder, in her lungs, kidney, liver, leg, even the back of her tongue," James said. "Bri went through the emotions of my baby, my fault but everyone told her it's not her fault.  No one took better care of themselves than her."
According to Phoenix Children's hospital this is the first case of cancer being passed on from mom to baby in-utero that they have seen. Globally too there are only nine such cases recorded.
"It flipped our world upside down," said Cox. "First you take a deep breath, then you say a few things that aren't allowed to be said on TV, and then as my wife would say, you suck it up and press on."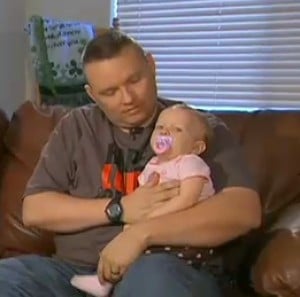 The prognosis was especially difficult for Briana who for a long time felt as if it was her fault. The mother lost her fight with cancer on February 12th.
For Addison, the road ahead is full of huge challenges. Doctors have got special FDA approval to give the baby an experimental chemo pill, and so far, it is helping slowing down or stopping some of the tumors spreading in her body. But she still might only survive 18 months.
What is extremely hard for the family is not just dealing with the cancer but also the expenses they have to bear. Because the drug is experimental it is not covered under insurance. To help them, the Phoenix police are holding a fundraiser March 3 from 10 a.m. to 3 p.m. at the Phoenix Police Air Support Unit.
"She makes you open up your heart. We pray for miracle. It was devastating," said Sarah Gasper, a family friend. "We're going to hope for the miracle, and we're going to do everything we can," she adds.
James says that his late wife felt that people are not really aware how easily one could get cancer. She encouraged people to wear sunscreen and a hat and get regular check-ups.
"It's your health care and you have to stay on top of it, especially with skin cancer. There's more out there than just spots on the skin," James said. "The big thing for her was for people to understand melanoma more and she wished for a miracle for Addison."
It is Briana's last wish that everyone hopes will be granted.
For more information about the fundraiser please contact Sgt. Keith Politte at 602-999-2214.  Donations can also be made to the Cox Family Donation Account at Arizona Federal Credit Union.
Related Articles:
---