On Friday, we introduced you Macie McCartney the little infant who was removed from the womb at 24 weeks to have a tumor removed and then put back in to grow a bit longer.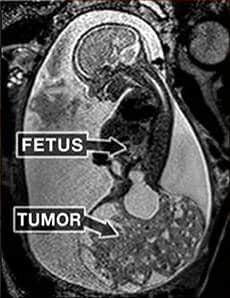 Today, Australian doctors are talking about a 22 weeker that needed to have a rare and delicate procedure done while she was still in the womb.
Kylie Bowlen was 22 weeks pregnant when surgeons from Melbourne's Monash Medical Centre removed amniotic bands from above her baby's left ankle.
After Leah Bowlen was born, surgeons at Melbourne's Royal Children's Hospital were able to remove amniotic bands from her right leg, which was at risk of being amputated.
The surgery inside the womb is the fifth case in Australia and is thought to be the earliest in utero surgery of its type in the world.
This reminds me of the famous picture that everyone has seen with the baby's hand sticking out of the womb while surgeons perform surgery on him/her.
It really is so amazing what can be done for a baby that is barely a pound.