Early Monday morning brought a series of scary misadventures for a baby in Houston until she was found by a jogger and re-united with her family.
Little Genesis Hailey was asleep in her mom's car in north Houston when a man jumped in and sped off in it just after 1:30am early Monday morning. Her mother had stopped to buy a beverage and left the car keys in the ignition, while she ran in quickly.
The mom had been paying for her purchases, she says, and turned around to check on the baby when she noticed her Saturn ion car speeding away.
The panicked family searched for the stolen car and baby.
Not long after police located the vehicle, near an apartment complex but without the baby girl. Authorities say the licence plate had been removed and a stroller and baby blanket had been dumped nearby.
Police issued an amber alert for the missing eight-month-old but it wasn't until she was spotted by a passing jogger three hours later that the family was re-united.
Hong Nguyen, 34, a visitor from Vietnam, was out for a run on Monday morning when she found a baby crying in the long grass next to the jogging track. Partially hidden by the bushes, and near the side of the road the child was still in her infant seat.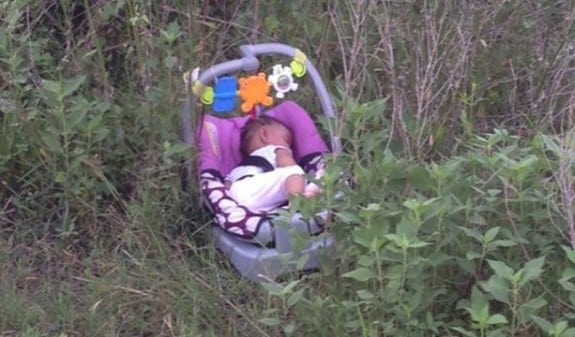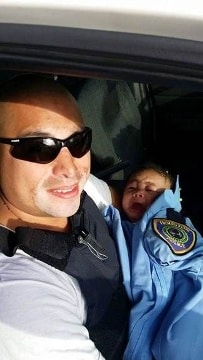 Hong called 911 and Officer Albert Pizana and his partner confirmed that it was the same child that had been abducted in the stolen car.
"My partner and I took her into the patrol vehicle where it was cool," Officer Pizana added.  "Once inside the patrol vehicle, she was still fussy.  Being a father, I know sometimes babies like to be swaddled.  Since I didn't have a blanket, I decided to use my uniform shirt and that calmed her down," he added.
The baby girl was taken to a hospital and is said to be fine except for some ant bites, which was incredible considering she had been alone for more than six hours.
Described as 'the middle of nowhere', police couldn't comprehend how someone could leave the baby in such an isolated place.
"I don't know what kind of an animal would do this to a child," said Lt. H. Lopez, of the Houston Police Department's homicide division. "Leaving the child in the middle of nowhere."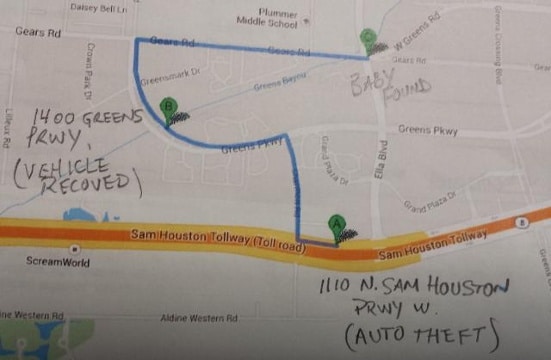 They also questioned the mom's decision to leave her child in the car with the engine on.  Even though she was just in the store for a couple minutes she wasn't fast enough to catch the thief as he sped off.
"It's a good reminder for the public not to leave their vehicles running, especially with a baby inside," Lopez said.
They have released a composite sketch of the suspect based on descriptions. He is a black male, about 5 feet 9 inches tall, in his late teens to early 20s.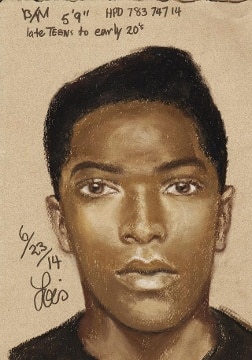 Anyone with information about who may have taken the child is asked to call the Houston Police Department at 713-308-3600.
---
[ad]