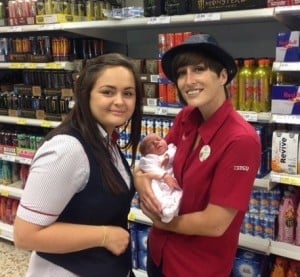 While shopping with her two young children at the local Tesco market, Chanelle Mackay ended up walking out with a little more than she'd bargained for – a beautiful baby girl.
No, she didn't purchase the baby. This expectant mother, who wasn't due for two more weeks, ended up having contractions while finishing up her shopping. Natasha Hunt, a Tesco store employee, helped Chanelle into a wheelchair and took her to wait for a first-aider. But within minutes, Chanelle's contractions had grown stronger, and it became very apparent that the baby girl wasn't willing to wait.
"Out of nowhere I [started] having full-on contractions and needed to push," Chanelle told Romford Recorder UK.
Chanelle was whisked off into one an office at the store, and paramedics were called. They talked Natasha through what needed to be done, and as Chanelle's labor quickly progressed, another staff member was brought onto the scene.
Counter team leader, Rachel Wright, stepped in and helped Chanelle deliver the baby. Natasha continued to speak with emergency responders, giving Rachel instructions on what to do. Baby Demi Mackay, born at 9:20pm at a healthy 6 lbs 6 oz, didn't cry at first. But Rachel acted quickly, cleaning out little Demi's mouth, and the little girl let out her very first cry.
The ambulance arrived just a few minutes later, and mother and baby were sent off in the ambulance. But they didn't leave without some congratulatory gifts from the Tesco store – diapers, baby bottles and a beautiful bouquet of flowers. Of course, the greatest gift was the safe delivery of her beautiful daughter.
"Popping into my local Tesco, I never dreamed I'd be leaving holding my newborn baby girl in my arms," Chanelle said. "I want to thank Natasha for getting me into a wheelchair, calling an ambulance and getting somebody to watch my four-year-old son, Alfie, and my 15-month-old daughter, Frankie. Above all, we will be forever grateful to Rachel, who was my guardian angel that night and delivered my beautiful daughter. Rachel wrapped her up and held her close to me so the cord was kept warm and safe until the ambulance arrived about five minutes later."
In fact, the experience was so wonderful that Chanelle couldn't resist bringing little Demi back to the place she was born the impromptu midwives could see how the little girl was doing.
"It was the most wonderful experience ever and I'm so glad I was a part of it," Rachel told Romford Recorder UK.
Hopefully, she'll continue to feel that way because Rachel has most definitely made a lasting impression on the now mom of three!
"[Rachel] will always be a part of my daughter's life and deserves a very big reward for being an amazing member of Tesco staff!" Chanelle said. "A big thank you to all who helped that night."
Related Articles:
---