First used in the 1980s, EXIT surgeries – surgeries that are performed pre-birth, used to only occur a handful of times each year, and they'd only been done at major hospitals. Phenomenally effective at saving the lives of infants with rare medical conditions, the surgeries then became more widespread; now there are even specialty centers that perform these surgeries on a regular basis. Colorado Fetal Care Center at Children's Hospital is one such center. And it is this center that helped save the life of little Lake Annabelle Hall.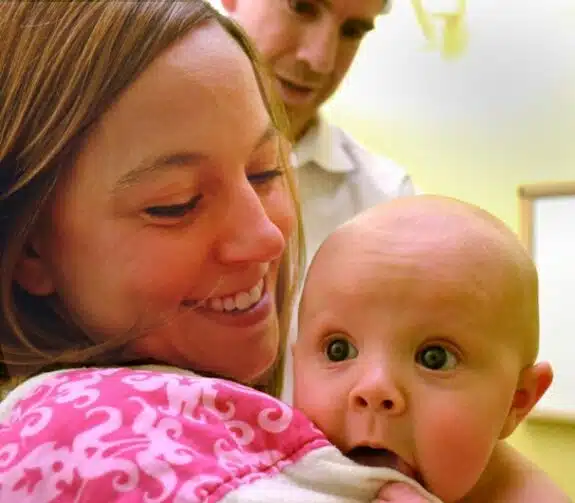 During her 20th week of pregnancy, Lake's mother, Savannah Perry, learned that her daughter had a cyst on the left lung. After further examination, doctors determined that Lake wouldn't be able to breathe once she was born. They knew, instantly, that something would have to be done about the cyst prior to delivery.
"You could push air in, but it wouldn't come out," Dr. Timothy Crombleholme, the surgeon who operated on Lake, told CBS. She wouldn't make it out of the delivery room."
So Dr. Crombleholme assembled a team of doctors – 43 of them, to be exact. Each team would have a specific purpose during the EXIT procedure. One team would perform a C-section and monitor Savannah during the entire process, another would care for Lake while in the womb, another would care for Lake during the EXIT procedure itself, and still another team would be responsible for Lake's care post-delivery.
Hours and hours of planning went into Lake's procedure because, not only are there risks involved, doctors could only leave Lake attached to her mother for an hour to an hour and a half. To ensure her survival, the surgery would have to be completed within that time.
When it came time to perform the surgery (Savannah's 30th week of pregnancy), Dr. Crombleholme spent a total of 19 minutes on the operation – nine to remove the cyst and close the large incision and another 10 to run a tube down Lake's throat to make sure it was clear for breathing. After that, doctors cut the umbilical cord and officially delivered the tiny little girl.
But Lake's fight wasn't over quite yet. The cyst had trapped fluid inside of Lake's left lung, which had caused it to grow larger than the right. Lake was also premature, and she had some issues with breathing at first. She would spend the next four months on oxygen. But then, at five months old, Lake's chest x-rays came back clear.
"I'm done," Dr. Crombleholme said.

"No more surgeries," Savannah told CBS.

"Lake is a normal, healthy, young baby girl, just like any other baby born without any issues," Lake's father, Erik Hall added.
Related Articles:
---