An investigation by The Daily Telegraph has found at least 26 baby mix-ups in the last three years in NSW public maternity wards. Staff shortages and irresponsibility are to blame.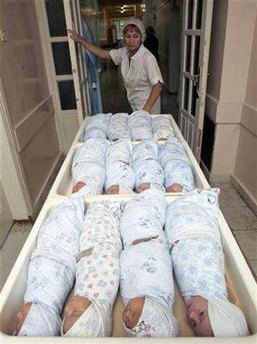 After a one-year investigation, The Daily Telegraph found that mix-ups were happening too frequently, some with dangerous consequences. In one case, an infant was given a bottle of month-old breastmilk that was pumped by another mother. Another infant was given the wrong medication due to a failure to check identification tags by staff.
The majority of the errors, at least half of them, occurred in the Sydney South West Area Health Service, which covers Royal Prince Alfred, Fairfield, Liverpool, Campbelltown, and Bankstown hospitals. These hospitals initially refused to release documents that showed the mix-ups, and the stress they caused many mothers.
Women were given infants not their own to breastfeed, and some infants were given bottles of breastmilk from the wrong mothers. These instances violate the NSW Health policies that should protect mothers and infants.
"The issue here is the possible spread of blood-borne diseases that can be transmitted by someone else feeding the baby and also the emotional and psychological trauma for a mother knowing that another woman fed her baby," said Midwifery expert Robyn Thompson.
Staff are expected to double-check ID tags on infants and mothers, as well as store pumped breastmilk in the mother's rooms to prevent such mistakes. In one case a baby was tagged as belonging to a mother who was at the time still in labor.
Australian Breast Feeding Association national spokeswoman Carrie Wood suggests mothers and infants be get together as much as possible when in a hospital to avoid these types of problems. UNICEF and the World Health Organisation has promoted hospitals that allow infants to stay in their mother's rooms as "baby-friendly hospitals". – Summer, staff writer
Related Articles: