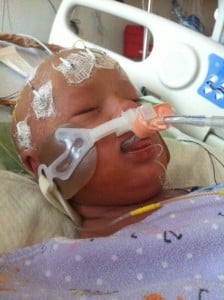 Cancer is a heartless, steamroller that takes no prisoners.  This is something Dave and Rebekah Campbell know all too well. Just 4 weeks after their daughter Molly was born, she  was diagnosed with Acute Lymphoblastic Leukemia, a cancer of the white blood cells.  Just a week later, she started thirty consecutive days of chemotherapy.  After that treatment her family received the good news that the cancer was in remission.
Now, her family reveals, she is in intensive care at St. Jude's Hospital in Memphis fighting for her life.
Her personal site notes that she was hospitalized in November, 2012 after she was found with a fever and looking lethargic.  Chimerism tests at the Victoria, BC hospital showed that Molly's leukemia cells had regenerated.  After being transferred to BC Children's Hospital in Vancouver, she was moved to St. Jude's Hospital, a leading facility for children's cancer treatment in North America.
Earlier this week Dave shared on the family blog that Molly started having 'seizure like episodes' that were getting more frequent.  Thought to be a side effect of the medication she was on, doctors performed tests on the two-year-old and ruled out a brain bleed or tumor.
Yesterday she took a turn for the worse and started seizing again.  She was moved to the ICU where doctors performed a lumbar puncture to check for possible infection.  Early this morning Dave blogged that doctors had been trying to induce a coma like state for minimal brain activity.
All day was unsuccessful but tonight she has finally stopped seizing (although she still has some spikes that need to be figured out) They are still having trouble controlling her blood pressure, oxygen and keeping her in a coma like state. The docs said that anyone else would be out cold but she is one tough little girl. She is still in minimal stimulation isolation so we have not been able to talk to her or touch her at all. We are happy that some small progress has been made and we continue to pray for more as she is still in very critical condition. She needs to be stabilized in order to have an MRI in the next day or two and try to find the cause. We are taking things minute by minute and we are so grateful to everyone helping to spread the word.
My heart breaks for this family and this little girl.  I pray that doctors are able to stabilize her and find what is causing her seizures.
Please visit their site for updates(unfortunately comments are closed) and donate even a dollar or two if you can.
---
[ad]