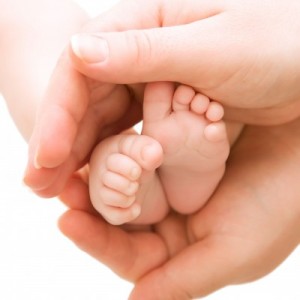 As most parents of multiple children know, labor times tend to decrease with each succeeding child. Such was the case for Rick and Ashley Harmon's fourth child, Lukas.
Ashley, 28, was awakened by contractions around 4:30 in the morning in her Clarksburg, Pennsylvania home. Since she had already experienced some false alarms, she decided to try and go back to sleep, thinking that the contractions would just go away. This was not the case. The contractions continued and became more intense. Finally, Ashley told her husband, Rick, that it was time to go.
The couple started the 45 minute trip to Excela Health Westmoreland Hospital where their three older sons – Logan, 8, Landon, 6, and Levi, 5 – had been born. After only 25 minutes of driving, however, Ashley told her husband, "I can't. We're not going to make it."
Rick tried to reassure her that they would be okay but Ashley insisted, telling Rick, "That's it. I can't go no futher. This baby is coming and you have to pull over." Rick and Ashley looked for a place to pull over and found a Long's Catering on the side of the road.
Rick pulled into the parking lot and headed over to the other side of the truck. He told reporters, "By the time I got to the other side of the truck, I already seen his head coming out." Both 'frantic' and 'excited,' Rick called 911.
Bill Hazlett, a 911 dispatcher of 14 years got the call. Hazlett told Rick to tie the umbilical cord but the father, not having any string, was then told to use his shoestring. Rick did just as he was told. He tied off the umbilical cord, cleaned the baby's airway and grabbed some baby blankets to clean Lukas up and keep him warm until help arrived.
Ashley told reporters,
"I was afraid something like this would happen with baby number four, being that baby number three only took three hours. It was definitely a lot quicker than expected."
Rick stated that he had planned on going into work early that morning. "I'm glad I didn't leave early," Rick said.
When asked how he viewed the experience, dispatcher Hazlett told reporters that he was happy to be a part of such a happy occasion. "With the immense amount of stress we [deal with], this is one of the calls that's rewarding to us," said Hazlett.
After arriving at the hospital, Lukas weighed in at 7 pounds, 1 ounce. Outside of some minor bruising on his face, baby is doing well. Sources indicated that Ashley is recovering and also doing well.
Related Articles: