Two-year-old Ava Kendall was eating lunch with her family when she suddenly grabbed her stomach and began crying in pain. The little girl wouldn't let anyone touch her and within a half hour she vomited. Her family assumed it was simply a stomach ache that would settle down but for the entire day the cycle repeated with more pain and vomiting.
Still worried the next day, her parents took her to emergency care where doctors tested Ava for flu, strep and pneumonia, concluding that she had a viral stomach bug. Back at home Ava still wasn't feeling well or acting normally. Her parents Ian and Lexi realized that something was wrong and took her to the emergency room. Doctors there noted her elevated heart rate and high level of pain. Thinking it could be Ava's appendix, they took a CT scan.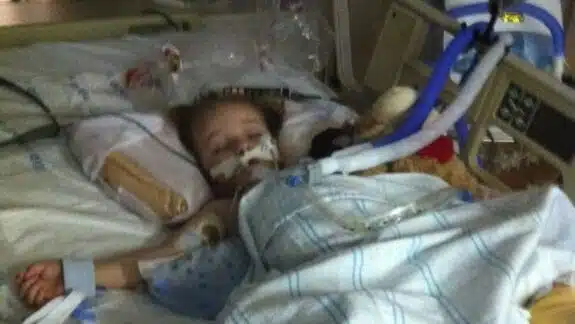 That's when they saw the nine small magnets the little girl had eaten.
Ava was transferred to Texas Children's Hospital in Houston where she underwent a four-hour operation to remove the magnets, repair the tears they had caused, and control her infection.
Dr. Kay Leaming-Van Zandt is an emergency medical physician at the hospital who reports that these types of incidents happen more often than people realize. "If the suspicion isn't there, it's easy for parents to overlook magnets," she says.
Children – or anyone – who swallow magnets can cause damage throughout their entire gastrointestinal tract. The magnets normally adhere together and in that move the beads then erode throughout the body and may stick to intestinal walls and the stomach lining. Eventually they create small holes and might even cause necrosis – the death of the bowel lining. As the beads travel through the body they cause severe infection and dramatic changes to blood pressure and heart rate. The longer magnets are in the body the more damage they do. Surgery is needed to remove them, and often to repair damage from perforations. Depending on the seriousness of that damage, parts of the intestine might have to be removed.
Lexi and Ian Kendall kept those offending magnets on the upper part of their refrigerator, but occasionally took them down and played with them alongside Ava, always returning them to a place they assumed was out of her reach after the game. They now think Ava somehow managed to reach the magnets while Lexi was out of the room attending to their 5-month-old baby.
Dr. Leaming-Van Zandt says that this case is a reminder to parents to be aware of seemingly innocuous household items that can cause great harm. Be careful child-proofing your home and talk to older kids about the danger.
Ava is still recovering in the hospital and receiving IV antibiotics for her infection. She spent a week in intensive care under sedation for her pain, but is starting to show signs of her old self and able to communicate.
Mom Lexi thinks it's important to spread the word so other families won't have a similar situation that could end tragically.