Water beads are tiny orbs made of polymers that can absorb and store large amounts of water. This makes them great for hydrating plants and trees and keeping flower arrangements fresh. In addition to gardening, water beads have grown in popularity in the toy industry where they have been used in a variety of toys for sensory play.
A mom in Pennsylvania is warning parents about the dangers of these colourful beads after her daughter was hospitalized for swallowing them.
"I truly can't emphasize enough how dangerous these water beads are to kids, babies, even pets," Whitney Reese, an ICU nurse and mother of three, told Fox News Digital in an interview.
Adding that they, "should not be in a house or in any facility where children can be exposed. They are so dangerous and not worth the risk, even the slightest bit."
Whitney Reese had purchased the water beads from Amazon as a sensory toy for her older children and only allowed them to play with them under her supervision during the baby's naps.
About a month before the incident she had thrown the beads out.
"I didn't even think they were still in our house," she said. "But some must have gotten loose, and [Harper] somehow must've found some."
Harper Reese, 1, was hospitalized on Jan. 3, 2023, her first birthday, after she began vomiting uncontrollably. Her parents took her to the emergency room where medical staff noticed her abdomen became distended and she was lethargic.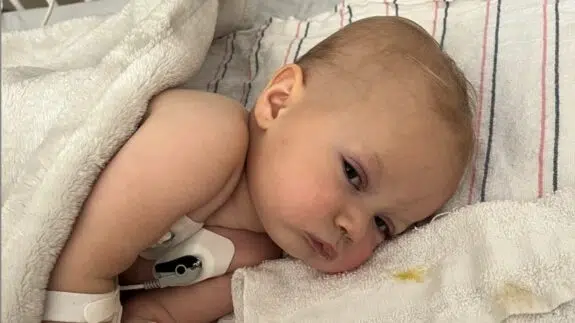 At the hospital, the baby's intestinal blockage was not showing up on X-rays and doctors initially suspected she had some form of a cyst. They then believed she had a virus until she passed the first bead.
Almost an inch wide, the bead had continued to expand while in Harper's body. It was determined there was one additional water bead remaining in her system, which was removed with surgery.
Despite being released from the hospital the toddler's recovery had been slow.
"It took over three weeks after she was discharged for [her] vomiting to subside." She also developed "very severe reflux".
Before Harper came home Whitney went through her home and vehicles to ensure there weren't any more beads hidden. Before they are expanded they are incredibly tiny and hard to find.
She said she threw away as many things as she could that she knew had come into contact with water beads — the older kids' sensory table, cups, buckets, and shovels — just in case any beads had shrunken down and were hidden from sight.
The cars and trucks her kids drove through the beads were soaked to make sure they weren't hiding any additional ones.
A dozen more beads were hidden in the toys — completely unbeknownst to anyone in the family.
Because these beads are bright and colourful they look like treats to a young child. The problem is that they continue growing and can cause blockages like what Harper experienced as well as in the baby's ears and nose.
According to the Healthy Children website, Signs your child may have swallowed water beads:
Refusing to eat
Lethargy
Drooling
Vomiting
Wheezing
Complaints that something is stuck in the throat or chest
Abdominal pain
Constipation
Abdominal swelling and soreness
If you suspect your child swallowed or placed water beads into their ears, seek treatment right away. You can also call Poison Control at 1-800-222-1222.