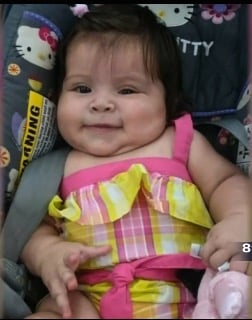 A baby girl is lucky to be alive after a fiery car crash killed both of her parents last Friday in Fresno, California.
Wendy Hancock and Gabriel Garcia were driving with their daughter, six month old Ariana, on a rural road around 3:30 a.m. when they crashed into a pole.
"We don't know why they chose to leave at the time they did, but Gabriel and Alexis were at my aunt Denise's house, and they had to go to school the next morning, so Wendy had to be at that house by 6 or so to get them ready to go to school," said Kristy Cagle, Ariana's cousin.
Hancock and Garcia also had two other children – 14 year old Alexis and 12 year old Gabriel Jr. Cagle said they were devoted parents who loved to laugh together.
"What I do for a living, I deal with car wrecks on a daily basis, and it didn't prepare me for this. It's definitely shocking," said Cagle.
It is believed that Ariana's mother made an attempt to save her daughter in her last moments, as the car was going up in flames. Hancock was driving the car that morning, but she was found by officers in the back seat.
"It's the only thing I can think of why she would have been in the back seat and how the baby ended up right next to the car, again not thrown from the car, but just I don't know if she put her out through a window or just had to get her out of there because the car was already on fire," Cagle speculated.
Ariana was then rescued from the scene by a Good Samaritan. Jose Sanchez lives nearby and saw the burning car.
"Our family is incredibly grateful for Jose Sanchez," said Cagle.
Ariana has been recovering at Community Regional Medical Center. Family members say she is awake and seems happy, remaining a beautiful reminder of her parents despite the bandages. The baby sustained severe burns on her arm and both legs.
"For Ariana, other than the netting everywhere, she looks like a healthy, happy baby," Cagle remarked.
Ariana will receive a skin graph on Tuesday to repair damage from burns to her arm and is expected to remain in the hospital until Friday.
---
[ad]