Before my son learned how to speak, we taught him baby signs so that he could still communicate with us.

We started off with a few easy ones like 'more' and 'all done' and then expanded to play, eat, please and thank you.
The Sabuda & Reinhart Pop-Up Baby Sign book is based on American Sign Language.
From early morning wake–up to eating, to playtime and bedtime, Baby Signs will teach baby and parent their first fifteen signs to communicate with each other.
Each page features a pop up child, demonstrating 17 different signs. I like that signs you don't normally find like mommy, daddy, bath and quiet are included in this book, while my son loves that each description is accompanied by a pull tab to show you better how your hands should be.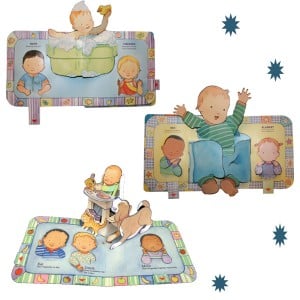 One (1) Grand Prize winner will get a copy of Baby Signs Pop-Up Book and a $50 Babies 'R Us Gift Card.

Four (4) First Prize winners will get a copy of Baby Signs Pop-Up Book
Giveaway closed.  Winners to be announced shortly
---