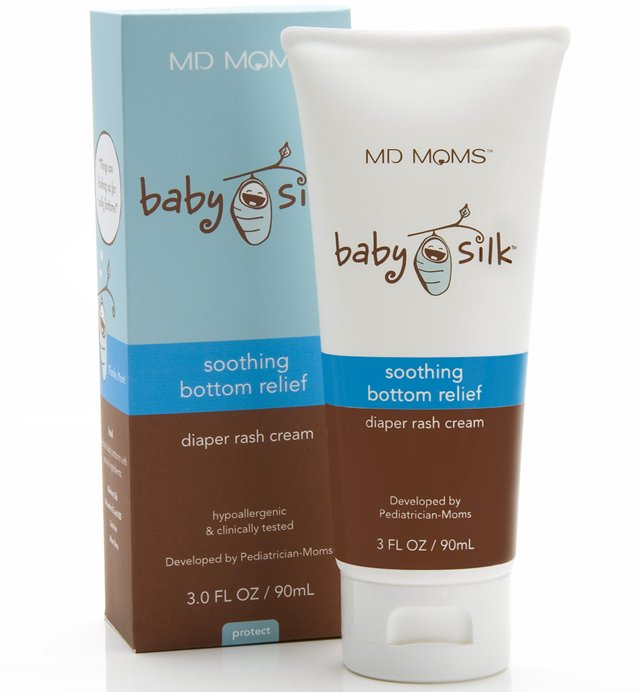 For the last few months, my youngest son has been battling a terrible bum rash. It goes away for a couple days and then comes back.
I have tried a half a dozen different creams to clear it up, but nothing has seemed to work longterm.
During a recent visit with MD Moms, it was suggested that I might have some success with their Baby Silk Soothing Bottom Relief.
Initially, I was skeptical because up to this point some of the creams I had tried actually made the rash worst.
The ladies assured me that, at the very least, their diaper cream would soothe his bum, but never make it worst and they were right!
Unlike other diaper creams, this lightweight lotion smooths on white and then turns clear. It's not thick or sticky, just light almost like a hand cream.
After just 3 applications, I started to notice a difference in the color of my little guys bum. By the second day the rash was gone. Now I only use the Baby Silk on occasion as 'maintenence' to keep as pinkness from going out of control.

They say you shouldn't use diaper cream with cloth diapers because it 'creates a barrier on the inner material and causes the diaper to repel instead of absorb moisture'. Because it doesn't contain lanolin, mineral oil, petroleum or waxes, I have found Baby Silk's Soothing Bottom Relief to be safe with the cloth diapers I use and would be comfortable recommending it to another cloth diaper mom.

This is another MD Moms product that will be a staple in my house. From the sunscreen wipes to the liquid silky powder. We love everything that they make.
Additional Features:
Contains no phthalates
Clinically tested & hypoallergenic
Made in the USA
No animal testing
*Thank you to MD Moms for providing this great product for sample*
---