It was nothing less than a miracle that a 10 month old boy was saved after his mom jumped from her apartment on Wednesday while carrying him. Sadly, the women did not survive.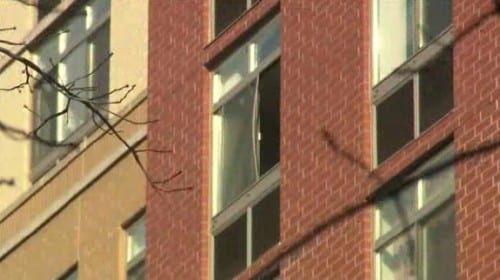 According to police, 45 year old Cynthia Wachenheim strapped her son Keston to her chest before plunging from her 8th floor apartment.  On impact he bounced off his mom and then rolled away from 'her motionless arms.'
During their investigation Police found a 13 page suicide note under a bed in her apartment. Cynthia lived with her husband and baby boy. She wrote in her note that she knew what she was about to do was 'evil' but she was concerned about the way her baby boy was developing.
The police say that the neighbours did not have any idea whether the baby had some physical or developmental problems.
Local resident 18 year old Steven Dominguez was the first to notice the baby and his mom. He says that he was walking with his mother Adelina from the local grocery store, when he noticed the woman take the leap.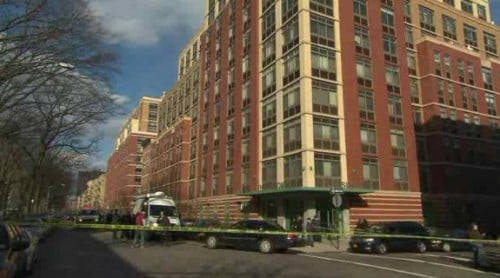 He said the baby bounced off her body, breaking some of the impact of the fall, before hitting the ground nearby.
"I heard a scream like a yell," Steven said. "When I got closer, I saw the baby crying." He said the baby was face down. "I was shocked," he said. "I couldn't believe it."
His mother asked him to pick up the baby but an emergency response person was already on the scene and asked them to stand back.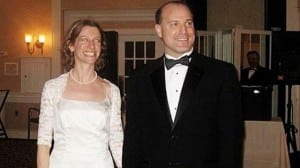 The apartment is in a relatively new building facing Jackie Robinson Park in Harlem, New York. Police say that the window of the apartment was wide open and there were no safety bars. Surveillance footage showed Wachenheim's husband, Hal Bacharach leaving the apartment about an hour before her plunge from the window with the baby.
A resident who lives 2 doors down from the family told the NY Daily News he heard the couple arguing early in the afternoon,
"He was yelling at her today," said Christian Johnson, 37. "It made me stop and listen. He was asking her why she wouldn't pick up the phone. He kept repeating it. Then, the baby started crying."
Another resident of the apartment Yaa Dwamena says that she has lived in the area for quite a long time and had known Cynthia.
"She was very nice, very friendly, very warm," 32 year old Yana said.
She said that the last time she saw Wachenheim was last week.
"I wouldn't have thought anything was wrong with her," she said. "They were a happy-looking family. I wouldn't think anything like this would happen."
Cynthia went to law school at Columbia University and worked in state Supreme Court in Manhattan doing legal research for judges court officials revealed.
"She was wonderful — very devoted to the court (and) wonderful with everyone she worked with," said her boss, John Werner, chief court clerk. "It's a tragedy."

"We are deeply saddened by this tragic incident," said David Bookstaver, spokesman for the city's Office of Court Administration. "Our thoughts are with her family."
The baby boy is said to be in critical condition but stable at the hospital.
---
[ad]