A 15-month-old baby is recovering in the hospital after a fall from a second story window in her apartment left her in critical condition.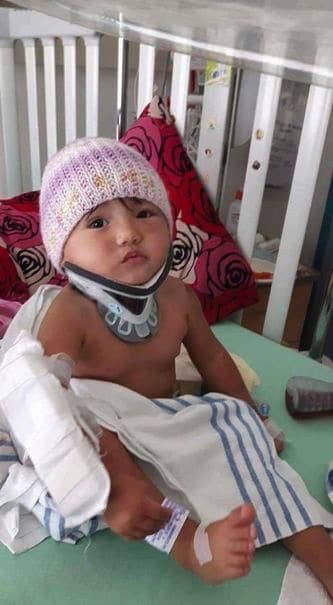 Little Emma-Marie had two skull fractures, two small brain bleeds, and a head laceration that required stitches. Doctors are still cautious about a possible spine fracture, so the baby is wearing a collar and will have an MRI to check for further injury.
Emma-Marie's young parents, 18-year-old Nevada Anderson and 22-year-old Christopher Genaille have spent an anxious few days at her hospital bedside. Anderson says that Emma-Marie was cleared to eat on Sunday and showed a good appetite. She was also returning to a more normal, silly personality.
Typical of a child her age, Emma-Marie likes to be carried. That makes it difficult for her parents since the baby cannot be picked up yet. She is still on bed rest – a concept Emma-Marie doesn't understand – so she's moving quite a bit and is anxious to go home. Her parents hope she will be released from the hospital by the weekend.
Police have investigated the incident and ruled it an accident, so no charges are pending.
Anderson told authorities that she was watching TV with her daughter in their apartment when she looked away to answer a text message from Genaille. When she didn't hear the baby, she turned and ran to the window and saw the child on the ground below. She raced down the stairs, and in spite of knowing that common wisdom says don't move the injured, she picked her baby up. Anderson says "I couldn't just leave her lying there. She was in my arms."
Genaille's brother and her sister called 911 and paramedics arrived on-scene within four minutes. Emma-Marie was taken to the hospital in critical condition, but was later upgraded to stable. Doctors told the couple that the baby should recover from her injuries.
While the couple is grateful for the support and prayers they've received, they have also had to endure seeing comments on social media criticizing their parenting. Genaille says that has been hurtful and made their situation more difficult. He wishes "people wouldn't be so quick to judge and make assumptions."
---
[ad]