Eight months ago the chances of baby Andrei surviving for even a day were close to nil. With almost no intestine, the baby boy was given only days to live. But miraculously, this little fighter has not only made it this far, he might also be healthy again after a complicated intestine transplant operation planned for him.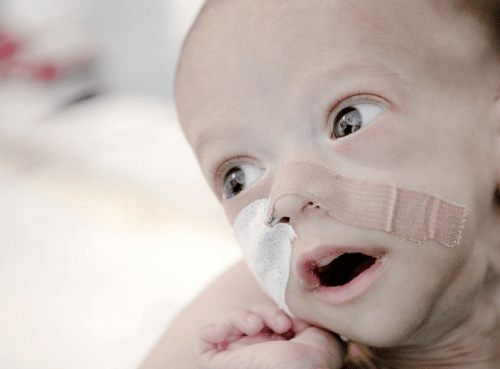 Baby Andrei's condition came to light last week when Dr. Catalin Cirstoveanu, head of the neonatal unit at Bucharest's Marie Curie children's hospital, revealed he flies critically ill babies to the United States to get around a culture of corruption. In their own country the doctor said, many doctors don't operate until they are bribed.
The news reports were supported with an image of Baby Andrei fighting for life in his incubator and that's when help started pouring in for the little boy.
People in Europe and the Untied States have started offering funds to help Andrei get a complicated intestine transplant in the United States.
"Offers of help have come in, particularly from abroad, from a non-governmental organization," Cirstoveanu said.
Baby Andrei was born with almost no intestines, and has confounded medical opinion by still being alive, and even kicking, 8 months later. But the cost of the critical surgery is too much for his parents who live in the eastern parts of Romania.
Romania's average monthly salary is €350 ($460) but the bribery culture is so strong here that nurses can be bribed just to change sheets. Surgeons can easily make hundreds of dollars for an operation and anaesthetists a third of that amount.
The cardio unit at the Marie Curie hospital is under Dr. Cirstoveanu, but the high tech machines are rarely used because the doctor has strictly prohibited his staff from taking bribes. To get around this the doctor flies his patients to Western Europe so that the operations can be performed without incentives.
Unlike other babies who are born with about a 3 metres of intestine, Andrei has only 10 cms. But despite that he has started teething like other babies of his age.
The nurses at the hospital have become so attached to him that they even participated in a lottery to raise money for his operation. However Dr. Cirstoveanu feels now that Andrei may get his surgery for free.
The baby has also been robbed of his parent's affection as they live hundreds of miles away from the hospital and rarely visit. Nurses take turns cuddling him as Andrei despises put in the incubator and starts wailing.
The doctor says that Andrei might have very observant eyes but the baby has grown little since he was born premature on July 27 in the small town of Tecuci. He currently weighs just 6.6 pounds and has grown just about 2.2 pounds since birth.
"He has no muscles or fat on him, but gets annoyed when no attention is paid to him," said Cirstoveanu, who adds that he might live for 0ne, two or three months without surgery.

"He should have been dead by now, but he has another chance," Cirstoveanu said. "But he needs this operation soon. It is very urgent."
Hope is floats for this baby boy as many seem eager to help him. But the help should reach him soon so that the little fighter can grow up to be healthy and strong.