Banana Boat's baby Sunscreen is under investigation after two mothers allege their babies received second-degree burns after using the sun protection cream.
Health Canada is investigating a total of 3 cases concerning the sunscreen but has yet to reveal the age of the third victim.
"We're definitely looking into it and we're taking [the cases] very seriously," said Health Canada's spokesperson Renelle Briand told CTV news.
The agency learned about the most recent incident after Caroline Morneau from Cacouna, Que., posted her story on Facebook on May 26.
Caroline's nine-month-old baby, Loïc, appeared to have a sunburn on his face even though he had been wearing Banana Boat Baby Sunscreen lotion.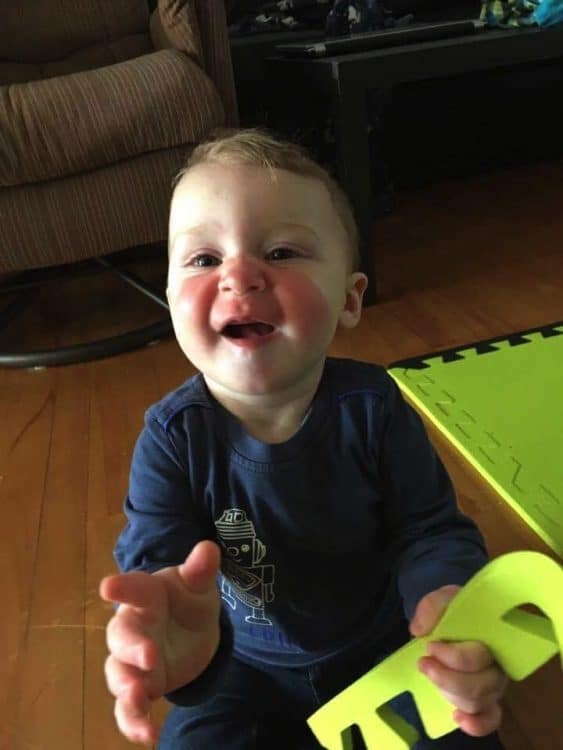 The following day the toddler needed to be taken to the doctors after his skin blistered.  Following an examination, the doctor informed her the sunscreen had caused her son's second-degree burn.
'Blisters started popping up'
She also noted in her translated Facebook post she wanted to make parents to chose better options for their kids saying, 'I'm not writing this post to garner pity, but rather as a warning to parents to pay a little extra money to ensure the quality of the products that we use on our children…And I wouldn't have written it if Loic was the only case of a burn with this product….but since yesterday, I've been hearing horror stories about Banana Boat"
Earlier this month Rebecca Cannon of Botwood, N.L. made similar claims about Banana Boat Kids SPF50 in the aerosol can. Her 14-month-old daughter, Kyla, was burned after wearing the sunscreen and ended up with blisters as well.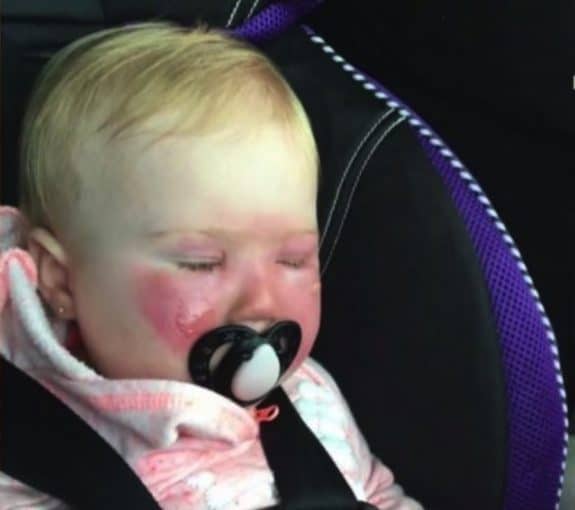 "As the day went on, she got a little redder and redder, and the next morning she woke up and was swollen. She was bright red, there were blisters starting to pop up," She told CTVNews.
After taking Kyla to the doctor,  she was also diagnosed with a second-degree burn.
Cannon then researched the issue on the internet and discovered multiple similar complaints involving Banana Boat sunscreen.
"I honestly don't understand how it's still on the shelves," she said.
Health Canada contacted Edgewell Personal Care Canada to follow up on the complaints.
"To date, Health Canada has received nine adverse reaction reports involving Banana Boat products as suspected products. Four of the reports were for Banana Boat products for kids and three were for Banana Boat Baby. The other two reports were for adult products," Briand said in a statement.
"We encourage any individuals who have adverse reactions, such as burns, to go to the adverse reactions database to fill out a product complaint form," she told Global News.
Banana Boat suggested that a bad skin reaction such as blisters may be caused by a sensitivity to an ingredient in the sunscreen that can be triggered or exacerbated by sun exposure.
A statement they released said,
"We are concerned when any person encounters a reaction using Banana Boat products. We take all of our consumers' concerns seriously and investigate all cases when we are contacted.
Banana Boat sunscreens fall within a neutral pH range, which means they are safe for human skin, topical use, and cannot cause chemical burns, which are sometimes mistakenly linked to personal care products or confused with sunburns…For some people, their sensitivity to an ingredient can be triggered or exacerbated by the sun. Such a photoallergic reaction can result in an exaggerated skin rash or sunburn,"
---
[ad]