Kid's bedrooms are often multipurpose rooms, serving as a quiet space for studying, an entertainment zone for play, and a peaceful sanctuary for sleep. It can be a challenge to create such an environment, especially if space is an issue. Thankfully, Battistella has designed the perfect solution with their "Mooving" kid's furniture line. Featuring mobile components, the Mooving collection combines functional, space-saving designs with beauty and versatility.
The collection offers six modern room styles with options kids will love to show off, including drop-down beds and sliding desks. You can even customize your look with different finishes and fun accessories.
Room 11 contains a large wardrobe with unique handles, a drop down bed, and a desk that slides up and down a bookcase. Imagine eliminating the need for a bulky dresser. That dream becomes a reality with all of the room this attractive wardrobe provides. And how innovative is the idea of putting a bed away rather than just making it?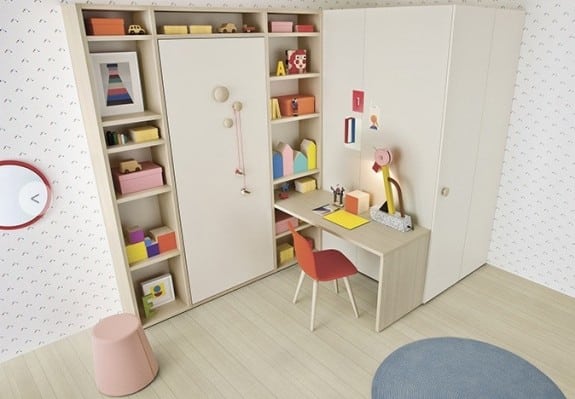 Room 01 includes a safe and cozy bunk bed with open storage steps, a drop down bed, as well as a drop down desk and cabinets. Toys, books and games will have an organized home with this design – what a lovely concept! I adore the storage steps, they're perfect for tucking away teddy bears, slippers or even serving as a bookshelf.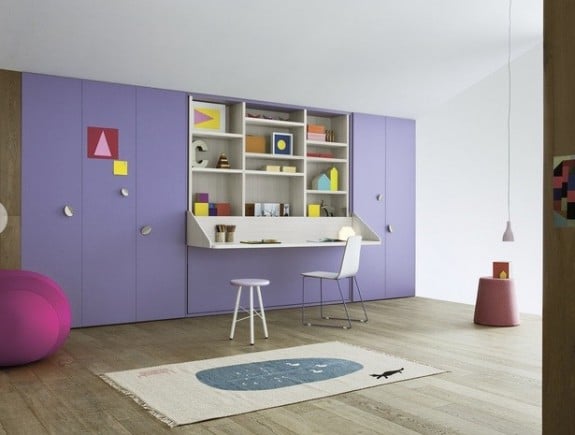 Room 02 offers a larger, sliding desk for the dedicated student, tinker or artist. With two sliding beds, an elegant back panel, bridging and wall units perfect for storing everything from out-of-season clothes, to sports equipment or extra blankets, this is the ideal room for the pre-teen kid.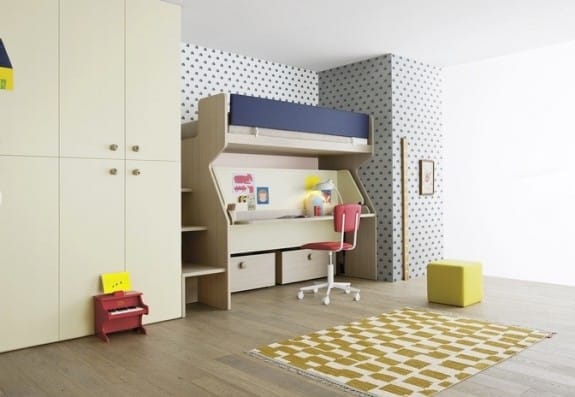 Room 06 is a great option if kids are sharing a bedroom or enjoy sleepovers. There are not two, but three beds in this room, one with adorable side steps. This room also has a pull-out desk for taking care of homework or coloring pictures for Grandma.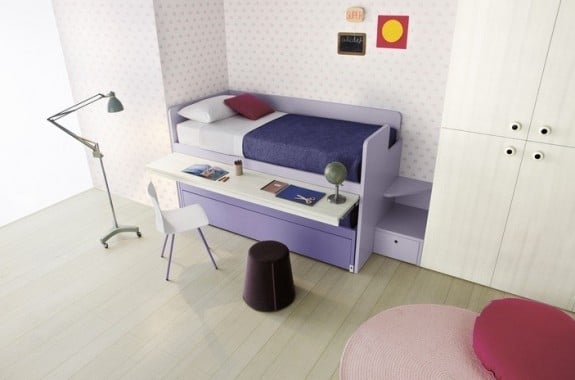 Room 07 contains a gorgeous bridging unit with fashionable knobs, a drop-down bed, and a drop-down desk. This is a whole room all in one piece! Talk about efficiency. This design is both aesthetically pleasing and perfectly functional, leaving lots of space for floor activities.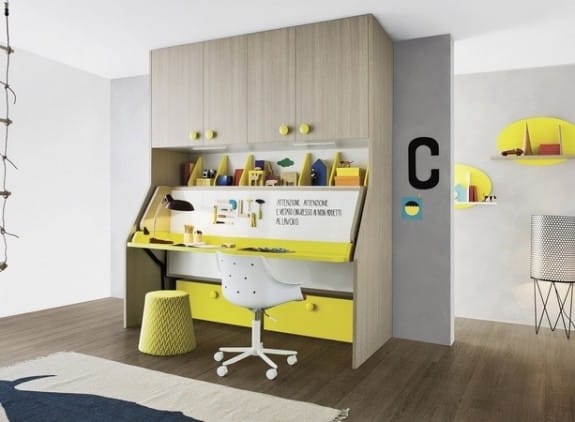 The final design was made for the avid reader. Take a look at the expansive bookcase suitable for a mini library. This room includes a foldaway bed with a cover panel, and knobs for hanging up a backpack or jacket, or adding a decorative element. There is also a large closet equipped with shelves, and a desk that could serve as a nightstand as well.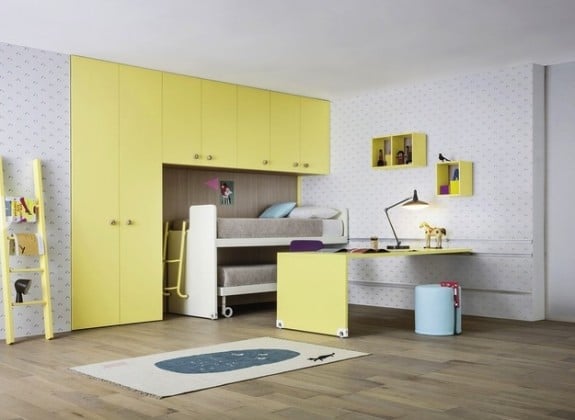 Battistella is a 62 year old company that believes in quality and craftsmanship, and takes a truly innovative approach to furnishing kid's bedrooms. The Mooving furniture collection provides attractive, original and versatile designs to fit the needs of any kid in any size room.
---
[ad]