The Beaba Babycook enables busy parents to cook nourishing homemade food for their babies with convenience and ease. This compact baby food processor is multifunctional and works as a steamer, blender, warmer and defroster. In less than 15 minutes, it steam cooks vegetables, meats and fruits while retaining their inherent vitamins and flavors. Next, the Beaba Babycook purees and blends the foods to the necessary consistency — and it may also be used to defrost or reheat precooked foods!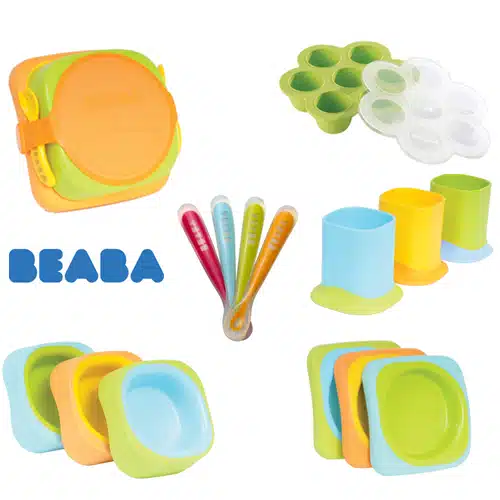 The Beaba Babycook features a 2 1/2 cup capacity bowl, cooking basket, spatula, and recipe book. It is BPA free, and the bowl and basket are dishwasher safe, making it even more easy to use.
The Beaba Feeding Collection is the perfect complement to the Babycook. This wide range of feeding gear is equipped with non-slip bottoms and handles that are easy to grip, making it easier for young children to learn how to feed themselves. The plates, bowls, and cups are stackable for storage and each item is dishwasher safe. The collection includes: the Lunch Box for toddlers and babies on the go (non-slip plate, travel container with 'keep warm' lid and an ergonomic spoon and fork, the Spoon & Fork Set (6 spoons and 4 forks), the Soft Plate Set (3 plastic plates featuring a slip-resistant base), the Soft Bowl Set (3 plastic bowels with slip-resistant base), the Cup Set (3 'glasses' for small hands to master drinking from an open cup), the First Stage Spoons (4 silicone spoons designed for babies being introduced to solids. Handle is designed for an adult hand to feed the baby.)Beaba Multiportions allow parents to store and freeze seven individual portions of baby food. Made from silicone and BPA-free, this lightweight storage container is safe for use in the microwave, freezer, and dishwasher.
The only thing Beaba can't do to make mealtime more of a breeze? Get your child to eat whatever you're dishing up… – Beth Shea, staff writer