When we traveled to Beaches Turks & Caicos in September I was impressed by their attention to detail.  From the layout of the resort, dining, and staff we encountered, everyone consistently went above and beyond to ensure our vacation was incredible.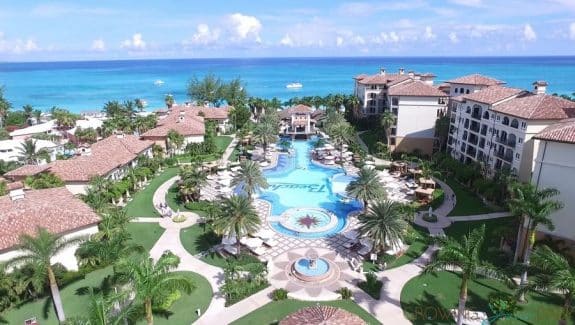 As many of our readers know my son has Autism so we are constantly struggling with sensory issues, lack of focus and general chaos when we are somewhere unfamiliar.  Travelling can be challenging because everything is different – location, food, and schedule.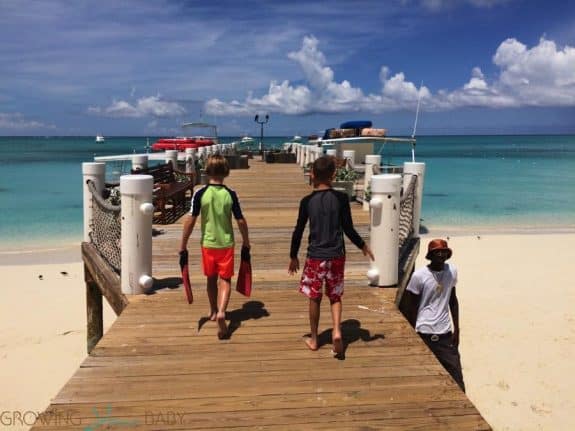 My son isn't alone.  Currently, 1 in 68 children (1 in 42 boys and 1 in 189 girls) is identified as having autism spectrum disorder(ASD). These numbers have skyrocketed over the past 20 years.
This week it was announced the International Board of Credentialing and Continuing Education Standards (IBCCES) welcomed Beaches Resorts to the family of internationally-recognized Certified Autism Centers (CAC) following staff-wide autism sensitivity and awareness training within each of their three Kids Camp facilities in Jamaica and Turks and Caicos. Additionally, each of Beaches Resorts' Kids Camp team members have received an Autism Certificate (AC) having successfully completed a demanding training program that better equips them to welcome families with individuals with Autism Spectrum Disorder (ASD).
In the past, the Certified Autism Center designation was typically reserved for schools and healthcare facilities, which serve individuals with autism and other special needs. Beaches Resorts are the first hospitality company in the world to complete the rigorous training and certification to ensure they are better equipped to offer families vacationing on their properties even more inclusive programs for children with autism and other special needs.
As part of the program, ongoing training for team members is required to ensure they have the requisite knowledge, skills, temperament and expertise to cater to all children including those with disabilities. This also means that at least 80 percent of the resort company's Kids Camp staff have successfully completed in-depth training in the areas of sensory awareness, communication, motor skills, program development, social skills, environment and emotional awareness and bullying.
"We are very excited to be working with the Beaches Resorts team to create the first Certified Autism Centers in the Caribbean," said Myron Pincomb, IBCCES board chairman. " This distinction ensures that individuals with autism and their families have the peace of mind that Beaches Resorts and their staff have successfully completed the training and certification required to deliver a safe and appropriate vacation experience."

"As the innovators in the travel industry, we take the lead when it comes to offering all families the best vacation experience bar none," said Joel Ryan, Group Manager, Entertainment & Youth Activities for Beaches Resorts. "We chose IBCCES because of their expertise and ability to provide the knowledge and competency needed by our Kids Camp staff to properly care for families with children on the spectrum; in turn, vacationing families have the comfort and confidence of knowing their children are in good care."
IBCCES Certified Autism Centers require staff to complete a minimum of 14 hours in autism training, pass a comprehensive autism competency exam and meet IBCCES Board approval. Ongoing autism training must be maintained every two years.
"Beaches Resorts is setting the industry standard by partnering with IBCCES in making their world-renowned properties friendly for people with autism and their families," said Dr. Stephen Shore, internationally-known autism speaker, author, and self-advocate. "I encourage other resorts and travel companies to follow their lead."
To add to this, Beaches announced Julia, Sesame Street's new Muppet with autism, would make her debut at its resorts in Jamaica and Turks & Caicos beginning this fall!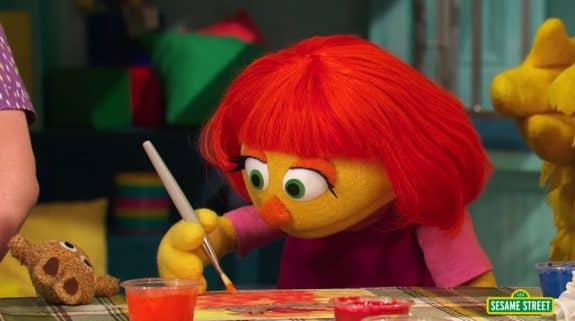 "We created Beaches Resorts as a concept for everyone and it's our privilege, particularly during Autism Awareness Month, to announce the addition of Julia this fall as part of our exclusive relationship with Sesame Workshop," said Adam Stewart, CEO of Beaches Resorts. "As a resort company that also celebrates that children have a remarkable ability to see amazing in all people, we are excited to introduce more inclusive programming for families with children on the spectrum of which Julia will play a part in," he concluded.
Julia will interact with kids during her 'Amazing Art with Julia' activity where kids will be greeted by the character.  Julia, who loves to paint, will highlight how people can express themselves through art. Using a range of materials, children will have the opportunity to explore, experiment and create in this open-ended art activity. Afterwards, children will talk about how they created their piece (colors, lines, shapes, etc.) and how their artwork is a celebration of who they are and their unique self!
---
[ad]