Nearly 200 people died in the earthquake that struck China's Sichuan province. Thousands more were injured. But amidst the rubble and debris, a little girl, born just an hour after the 7.0 earthquake hit, brought hope and joy to all lucky enough to witness the experience.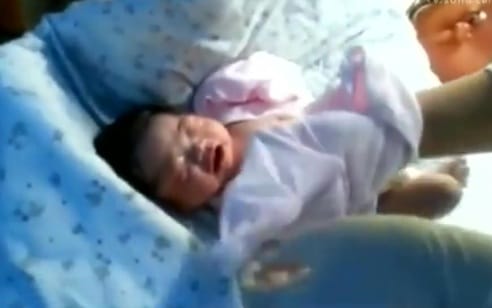 According to the semi-official China News Service, the baby's mother, Cao Miao, had been in the hospital since April 10th. Long overdue, the expectant mother had been transported to an empty stretch of the grounds outside of the hospital with the rest of the People's Hospital patients. It was at that time that she reportedly pointed to her belly and shouted at the nurse's, notifying them that she was about to give birth.
Nurses from the hospital carried the mother to a covered parking area where other patients were laying on mobile hospital beds. Under the tented area, patients squeezed together and made room for the mother and the hospital staff that would help her through the delivery. An hour later, a healthy, beautiful 8lb, 3oz baby girl was born.
Though the entire video spotlighting the birth is in Chinese, it's nearly impossible to miss the buzz of excitement and joy shared in the live footage of the little girl's birth. The staff was all smiles as they cleaned the beautiful little bundle of joy. And while nurses cared for the mother, they tended to the baby girl. She was promptly diapered, dressed and then wrapped in a warm blanket to keep her body temperature where it needed to be.
Ms. Cao Miao says she is considering naming the baby girl Zhensheng. The name means Quake-Born.
Related Articles: