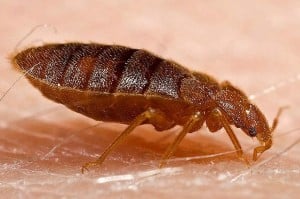 Nobody wants to talk about it, but I'm going to say it anyway.  Bed bugs are among us.  Yuck!
So, what are you supposed to do?  Hide out in your house and dowse everyone, who comes through the door, with DDT?  Of course not, that would be illegal.  The best defence against bed bugs is education.
Bed bugs are everywhere now.  They're across the country, in big cities, small towns, homes, offices, airplanes and cars.  Even Bill Clinton's office wasn't immune.  But, the fact remains, bed bugs are most prevalent in major population centers and tend to be passed around by travelers in hotels.
We're not talking about flea-bag motels, either.  Last year, there were reports of bed bugs at the legendary Waldorf-Astoria in Manhattan.
Bed bugs are causing problems all over the country, but certain cities have been harder hit.  According to Orkin LLC and Terminix, and corroborated by The National Pesticide Information Center, the most infested cities in America are:  Cincinnati, Chicago, Detroit, New York and Columbus.  Ohio, as a whole, has been badly affected.  No one is quite sure why.
Edwin Rajotte is a professor of entomology and IPM coordinator at Penn State University.  He says that there are a couple of things working for us, when it comes to bed bugs.  First, they don't spread disease.  Second, they are the same wherever you go.
"There aren't super bugs in Detroit or something like that," Rajotte said.  I'm glad they haven't developed superpowers, but what can we do about them?
According to Rajotte,
"The main defence against bed bugs is education and awareness because everybody has a role to play in managing bed bugs, and it's much easier to manage if you catch it early."
Kaci Buhl, project coordinator for the National Pesticide Information Center, suggests that travelers closely inspect the sleeping area of their hotel.  "Look everywhere," he said. "Bring a flashlight and inspect the box spring, seam along the mattress, under tags on the bed, even the headboards."
Experts also suggest that you store your luggage in the bathroom, if space permits, as the bugs are less likely to travel into this area.
Once you're home from your travels, inspect your luggage before you bring it back into the house.  You should wash your cloths and dry them in the machine, on high heat, for at least 30 minutes.  This will kill off all stages of the bed bug life cycle, on the off chance you've picked up a stowaway.
But, what if it's too late?  A little hitchhiker has already followed you home and she's a family.  Experts urge that you put your bed bug stigmas and embarrassment aside.  Call for professional help immediately.  It's relatively easy to deal with a few bed bugs.  Let the infestation progress and you'll find yourself with an expensive problem.
So, long story short.  Do your best to avoid bed bugs.  Be smart.  Use precautions.  But, if you find you've come home with an unwanted souvenir, don't ignore the problem.  The sooner you deal with bed bugs, the sooner they're gone. – Jen R, Staff Writer
PHOTO VIA

---