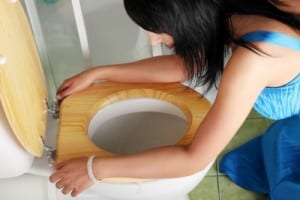 Morning sickness is often expected during pregnancy. Long-term or extreme morning sickness, however, may cause more issues than previously realized.
Known as hyperemesis gravidarum (HG), extreme morning sickness affects thousands of women every year -around 285,000 American women alone. A new study performed by the UCLA and the University of Southern California found that this condition can have serious effects on the developing fetus.
Children born to women with HG were found to be 3.6 times more likely to suffer from behavioral problems like bipolar, depression and anxiety during adulthood. Girls born to women that experienced HG during pregnancy were also found to be 17 times more likely to suffer from the condition during their own pregnancies.
"In all, among 17 diagnoses, 38 percent of the cases are reported to have a psychological and/or behavioral disorder as compated to 15 percent of the controls," researchers wrote in the study. "In this study, adults exposed to HG in utero are significantly more likely to have a psychological and/or behavioral disorder than non-exposed adults."
Other studies had linked HG to problems with attention and learning problems by the age of 12 as well as poor health during adulthood. Researchers believe the increased likelihood of psychological and behavioral disorders have something to do with the malnutrition and dehydration while in utero, caused by the effects that accompany HG. Stress, which is very common during and after HG pregnancies, is also thought to be a contributing factor.
Researchers did acknowledge that there are some limitations to the study. For starters, the results were based upon self-reporting and recall. This can cause incomplete and biased results so the exact numbers may not be completely accurate. Still, there definitely was a link between HG and psychological/behavioral conditions.
Hopefully, this evidence will help sprout more studies and research about HG. According to the researchers, "HG is an understudied and undertreated condition of pregnancy that can result in not only short-term maternal physical and mental health problems but also potentially lifelong consequences to the exposed fetus."
Related Articles:
---
[ad]