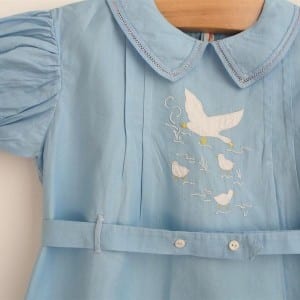 Looking at old photographs from the 20's and 30's and there is something so charming about the tiny tots in sailor suits and smocked, embroidered dresses. Delicate cottons and silks with tiny pintucks, careful embroidery and lace edges all make for beautiful heirloom pieces that are as gorgeous today as they were back then.
Belle Heir provides an outlet for just such vintage children's clothing pieces. A love for vintage children's wear sparked intense searches of estate sales, antique shops and flea markets and has resulted in a breathtaking collection of unique dresses, sunsuits, rompers, and sailor suits from the turn of last century through the 1960's.
You probably won't want to feed your little one her messiest meal while wearing a delicate cotton dress from 1930, but for special occasions or just a beautiful summer day in the park nothing is sweeter than a crisp cotton sunsuit or white smocked dress with French knot details.
To bring back some vintage charm from the elegant days gone by, and to find an outfit that is truly as unique as your child, look to Belle Heir for the perfect vintage outfit.
---
Related Articles:
---