As travel is limited and activities are shutdown, many families are turning to hiking and outdoor excursions to keep their kids active.
Backpack hiking carriers are ideal for long outdoor hikes are they keep little ones safe, sheltered, and in a comfy position to enjoy the day out.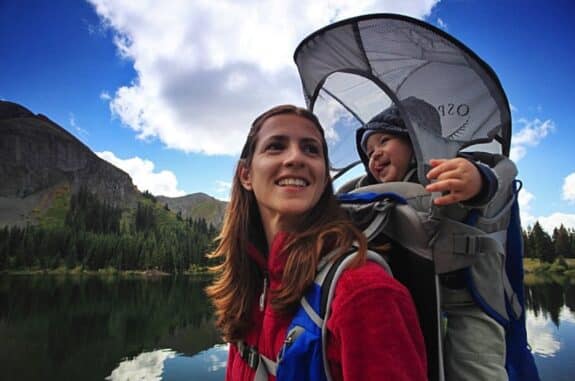 For parents, these lightweight options offer support and comfort while providing storage of essentials you may need while out.
There are lots of baby carriers that can be used in the back carry mode. We are focusing on the framed version for this list.
If you're looking for the best options on the market we have rounded up the Best backpack hiking carriers for 2021!
The Kid Comfort Active Carrier carries kids in comfort (for both passenger and parent) without adding extra weight. Deuter makes 2 versions of this carrier one specifically for women(SL) and one that is unisex.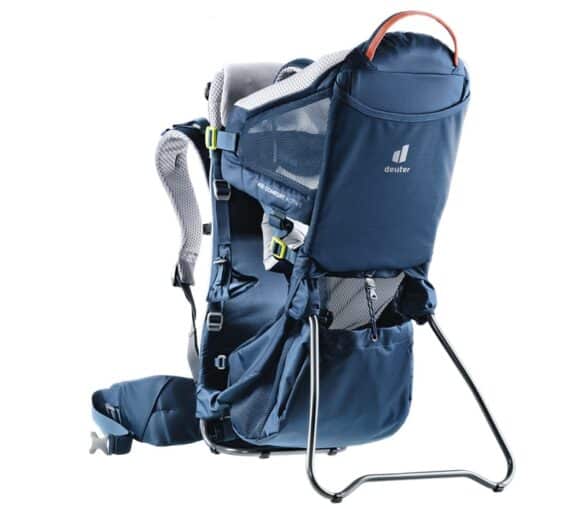 Weighing just 5.4lbs the Kid Comfort Active is designed with a child cockpit area that has ventilated mesh sides, a detachable and washable chin pillow, soft fabric around the face, and durable washable fabric by the feet. The sturdy aluminum frame is tip-resistant, has a locking base, and folds for transport.
For parents, there is a PullForward hip belt that is easy to adjust, even with heavy loads!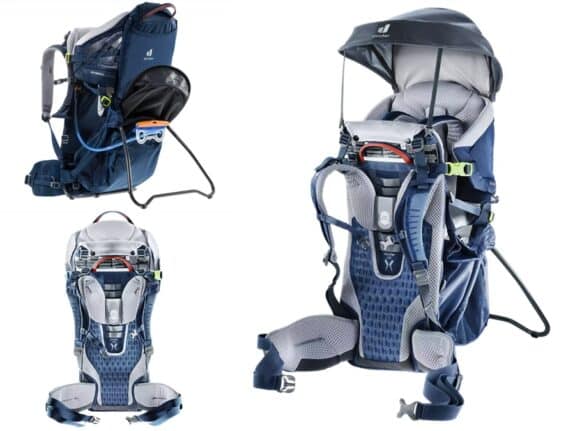 Retails for $360.
Thule's Sapling Elite is a safe, comfortable child transport system with quick adjustment options to fit both parents. For your comfort, it has a fully adjustable back panel and hip belt to provide a perfect fit.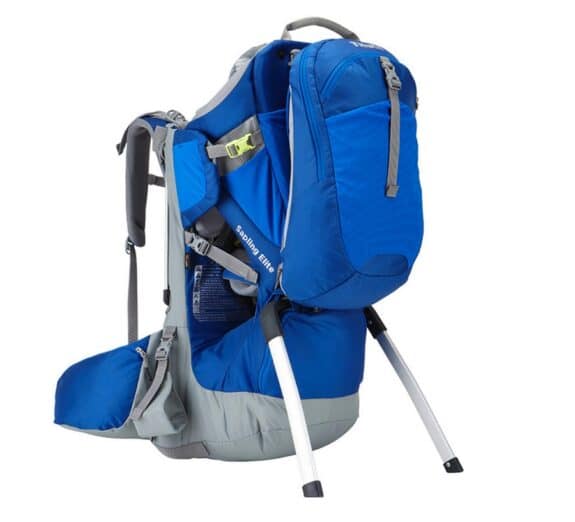 Parents can store water, diapers, clothes, rain gear, and other essentials, thanks to mesh pockets, hydration reservoir sleeve, removable backpack, and large zippered compartment (hydration reservoir sold separately).
You can keep essentials close at hand with two extra roomy zippered hip belt pockets that store toys, snacks, and gadgets.
A mirror lets you monitor your precious cargo.
Load stabilizer straps allow on-the-go adjustments to the backpack's center of gravity by pulling the child closer to the parent for a more comfortable carry.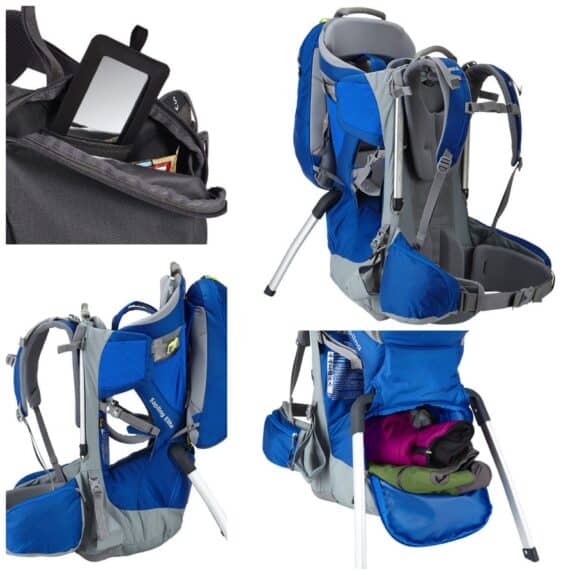 There is a deployable sunshade that keeps your child cool and protected from the elements.
Retails for $420
The Poco Child Carrier was designed with lightweight aluminum stays help stabilize the load, and the mesh shoulder harness and back panels reduce back, hip and shoulder fatigue.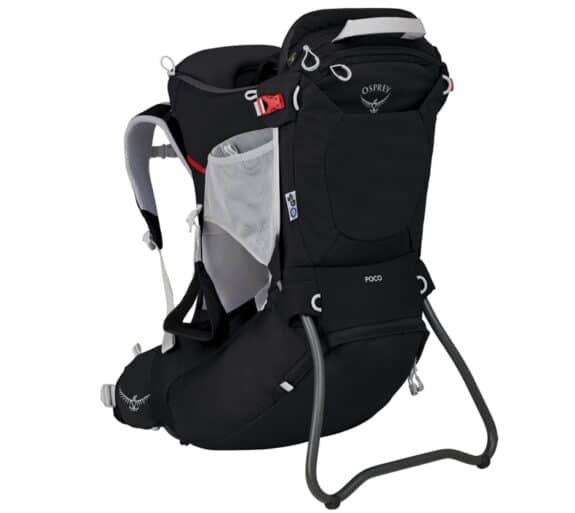 Weighing 7.7lbs, the carrier has handy pockets that hold snacks, diapers, wipes, hats, toys and items you'll need during a day out. Height-adjustable shoulder straps customize the fit for either parents while a fleece-lined child harness and height-adjustable seat is surrounded by a fully padded cockpit for child comfort and safety.
An integrated, collapsible sunshade deploys and stores quickly for ease on sunny or rainy days.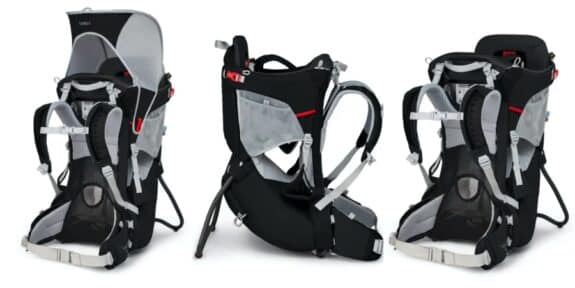 The Poco Child carrier features a collapsible and foldable design that will fit easily into your gear closet or car trunk.
Maximum recommended load (including child and gear) is 48.5lb. (22kg)
Retails for $420.
The Journey PerfectFIT™ Elite child carrier offers everything you could possibly need while trekking in the wild with your kiddo.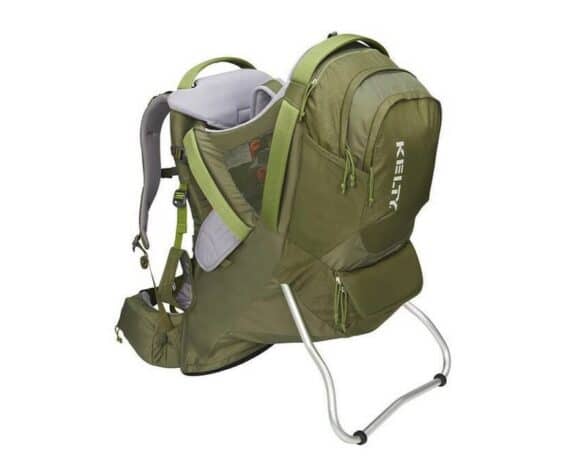 Weighing 7.4 lbs, Kelty's PerfectFIT™ Suspension System easily adjusts to fit both mom and dad so you can both comfortably spend the day out. It was designed with a 5-point safety harness and padded aluminum roll cage for no-worries trekking on any terrain and an integrated sunshade to protect your little one of sunny days. A large zippered pocket with internal stretch pockets will store extra layers, toys and anything else you may need.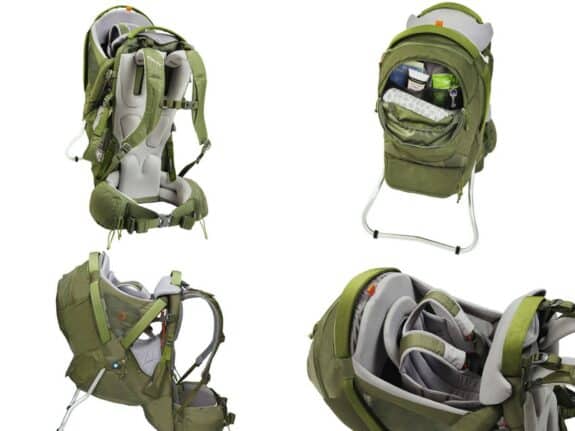 Retails for $300.
The Phil&Teds escape™ is a fully-featured & ergonomic baby backpack carrier that delivers freedom to adventurous parents to explore the great outdoors with their kid in tow, hands free!