Having the right highchair for mealtime is not only good for your child's development but it gives them their own space to learn how to socialize and try new foods.
Most high chairs will provide a space for your baby to lay comfortably with you during dinnertime when they are an infant and then adjust as they get older and are able to hold their heads up and control their body movements. From about 9-12 months you will notice them showing interest in trying foods themselves. Having a large, washable tray is the perfect space to place the food down so they can grab the food with their hands.
It's essential to choose a seat that gives them the support they need as they grow while keeping them safe as they become independent enough to be with the family at the table.
Here are our Top 10 High Chairs For 2023 in all budgets!
*affiliate links included in the post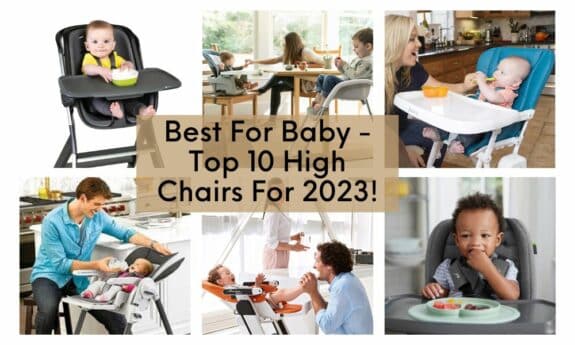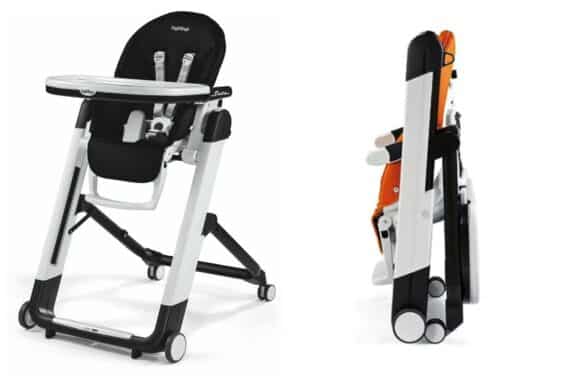 Peg Perego's Siesta high chair is perfect for your baby as they grow. It can adjust to nine different height positions and the footrest of the Siesta can also adjust to 3 different positions.
The seat of the Siesta has 5 reclining positions and is equipped with Evolved Tilt-N-Space, which allows the seat to fully recline and extend to provide maximum comfort for the child.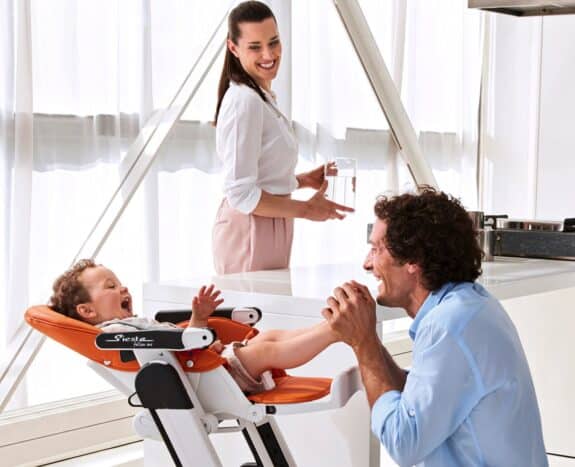 The eco-leather upholstery is soft for babies and can be cleaned with a damp cloth after a messy meal.
SPECS:
104.57 x 60.1 x 74.93 cm
WEIGHT: 27.5
Maximum weight recommendation 5 – 45 Pounds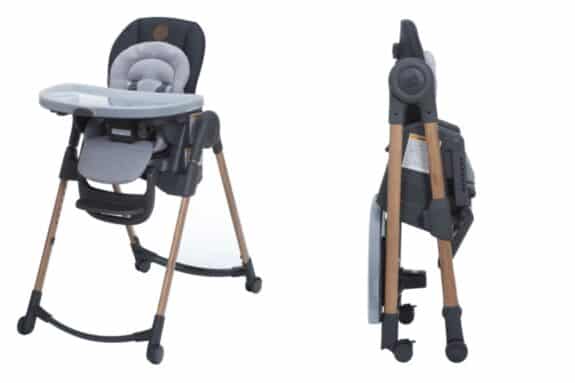 The Maxi-Cosi Minla is packed with features to make mealtime a breeze. It was designed with five recline positions, four tray positions, and nine heights. You can also use it as a relaxed infant seat thanks to the cozy inlay, as a high chair, or as a cool booster seat with a tray.
The high-quality materials and zip-off seat pad are easy to wipe down or throw in the laundry.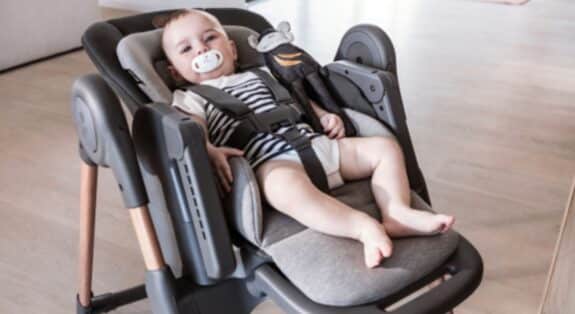 When you're done, it folds up to be tucked away out of sight.
SPECS:
84.66 x 55.25 x 106.88 cm
WEIGHT: 25LBS
Birth to 50 lbs.
The Stokke Tripp Trapp® chair is a chameleon that can stay in your home for life. When your child is small they can relax in the chair with the baby set with a harness, and cushion. This attachment provides exceptional side and back support for your baby to acquire the important skill of learning to sit.
From 6 months+ the harness can be attached to the back of the frame along with a cushion, and a Stokke tray to create a standard highchair. As they grow and become more independent the seat and footplate are adjustable.
This chair will accommodate an adult up to 242.5 lbs so it can stay in your kitchen for mealtime or as extra seating when you have guests.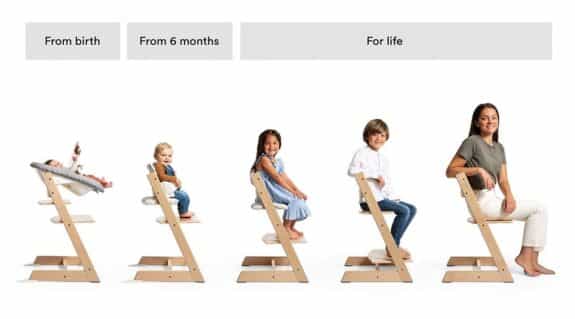 SPECS:
Product Size (cm/in): 52.5 x 19.8 x 80.2 / 20.7 x 7.8 x 31.6
Weight (kg/lbs): 9.718 / 21.4
Suitable for age: from 6 ~ to 50 (months)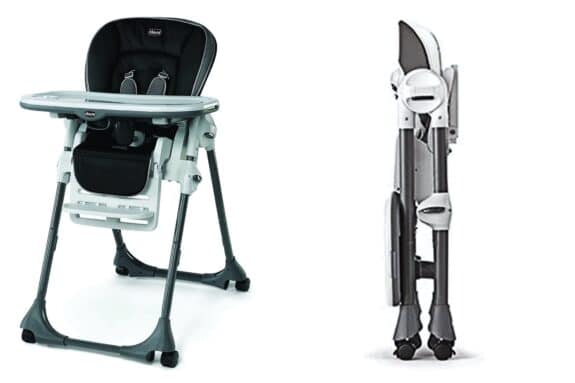 Designed in Italy, the Chicco Polly high chair features an ultra-slim 8-inch fold. Perfect for every stage, it has a 3-position reclining seat and 7 height adjustments. The one-handed removable tray, adjustable footrest and fold-away armrests make it easy for older children to scooch right up to the table with the rest of the family. Clean-Up is a breeze with the Polly high chair thanks to the convenient tray insert and premium seat pad that is easy to wipe clean.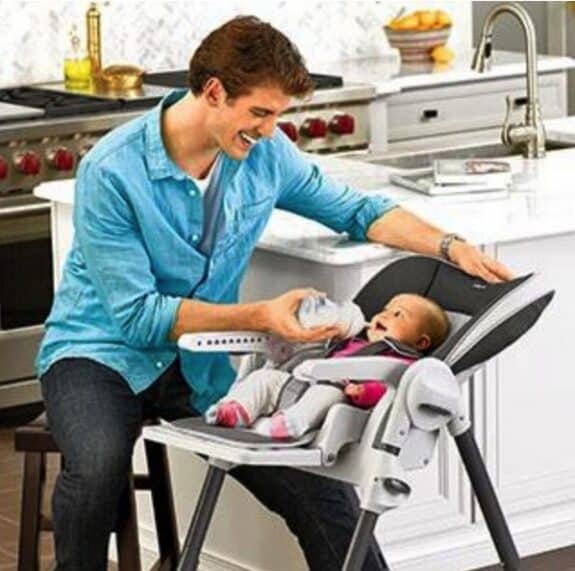 SPECS:
64.5 x 54.5 x 32 cm
WEIGHT: 23.50LBS
For babies 5 months to 3 years of age, and up to 40 lbs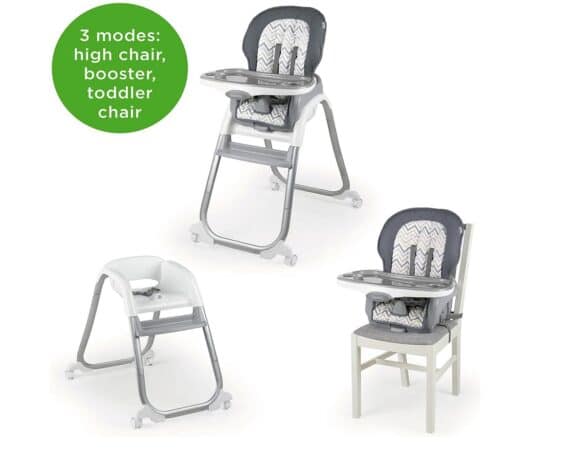 Ingenuity SmartClean Trio Elite 3-in-1 High Chair easily adjusts from full-size high chair to booster seat to toddler chair. The dishwasher-safe EasyClean tray also features four locking positions to grow with your baby. And as your family expands, it can be used as a booster and toddler chair, and seat two children at the same time. The sleek metal elliptical frame and neutral colors of this modern high chair are designed to complement the décor of any home.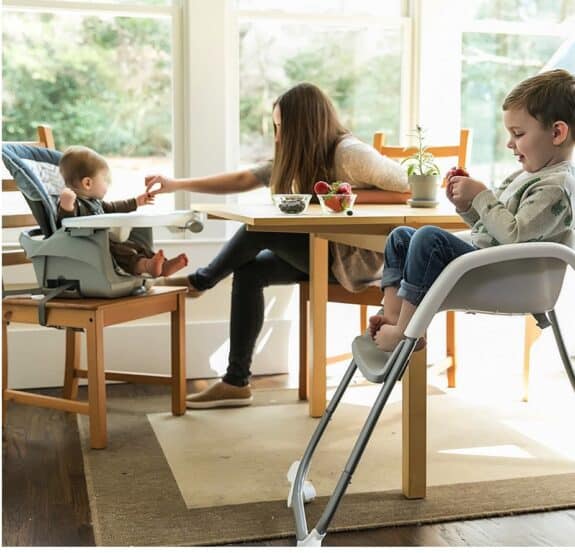 SPECS:
113.03 x 55.88 x 83.82 cm
WEIGHT 9.61LBS
BIRTH TO 50 Pounds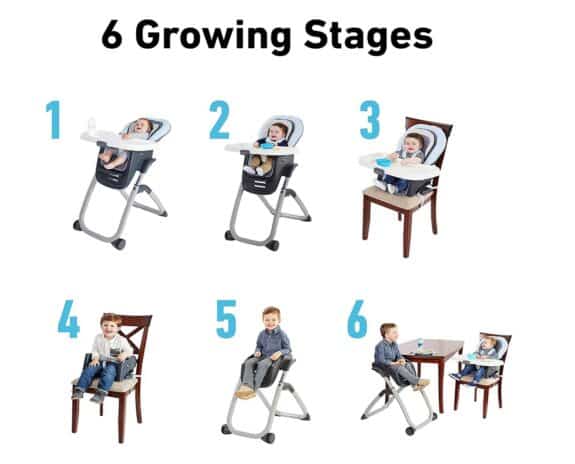 Graco's DuoDiner® DLX 6-in-1 Highchair gives parents options for 6 growing stages from infant highchair to seating two kids at once. It features infant body support and 3 recline positions for early comfort. Its 5 height positions allow the chair to match any dining table height. As your baby grows, you can use the infant or toddler booster on a dining room chair. Then, convert to an elevated youth stool to give your older child their own seat at the table.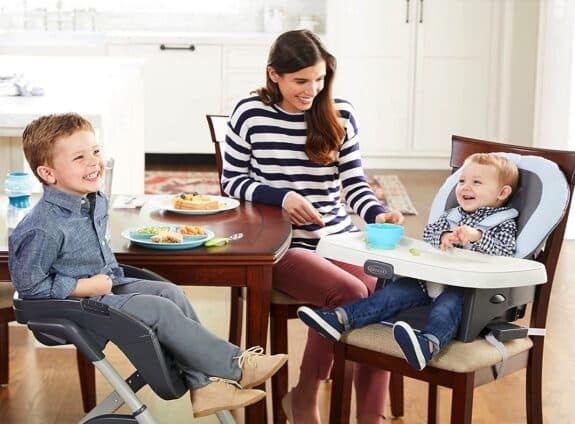 SPECS:
30.99 x 55.7 x 76.89 cm
WEIGHT:25LBS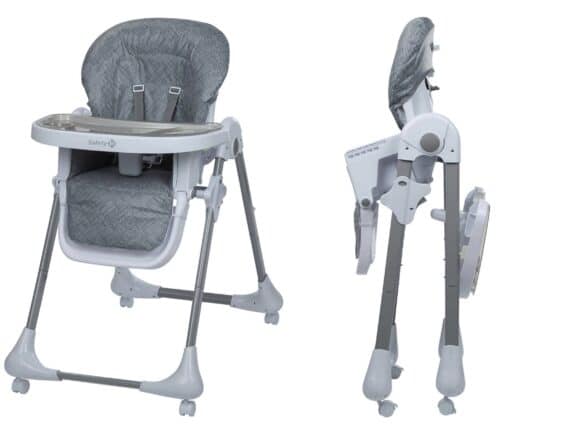 Safety 1st's 3-in-1 high chair grows as your child goes. With 3 modes of use, it reclines to 3 positions to accommodate babies and has 6 height positions and an adjustable footrest for your growing child. The tray removes when your child is ready to join you at the table. The insert tray is dishwasher safe and the seat cover comes off for an easy wipe-down.
When mealtime is over, the chair folds easily to be stored out of sight.
SPECS:
86.99 x 59.69 x 105.41 cm
17.44 lbs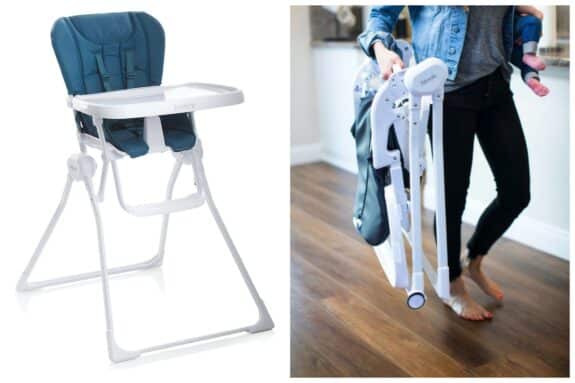 Joovy's Nook high chair features a large swing-open tray that operates with one hand. It has a tray with four depth adjustments to accommodate your child as they grow and it's roomy enough to accommodate a child up to 50 lbs. The leatherette material makes it easy to wipe down, while the lightweight frame folds down for easy storage. It is compact enough that you can throw it into the car and bring it to grammas.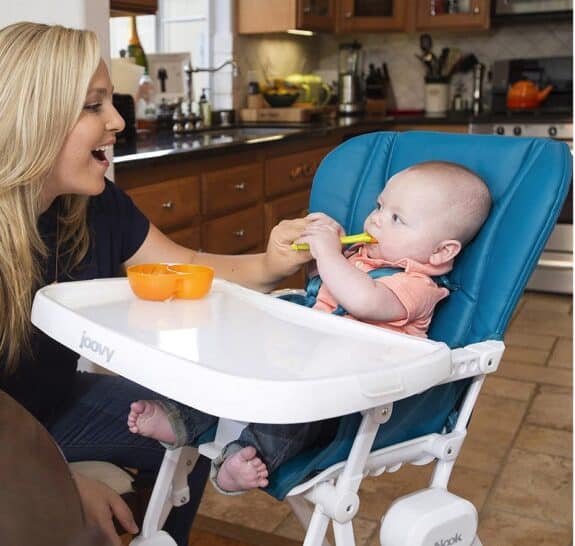 SPECS:
81.28 x 59.69 x 104.14 cm
WEIGHT: 14.90
BIRTH TO 50 Pounds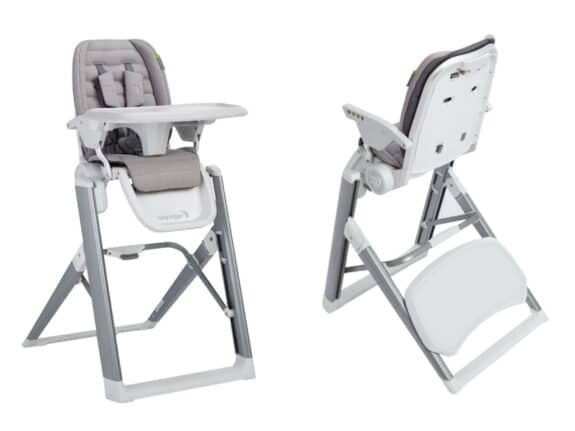 Baby Jogger's City Bistro High Chair is another great option for families looking for a sleek and slim high chair that quickly folds away for storage in the smallest of spaces. It folds down into a self-standing fold that is 80% smaller than when unfolded and the tray simply clips onto the back of the high chair to keep all the pieces together while folded. With 4 different height positions, this high chair will grow with your baby and provide added comfort with a plush, premium seat pad. The fabrics are machine-washable, stain-resistant, and easy to remove so cleanup is a breeze.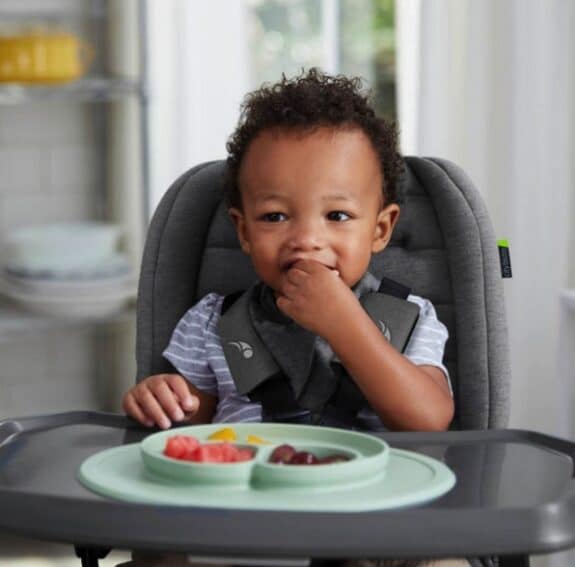 SPECS:
42" H x 19.5" W x 25" D
WEIGHT: 15.4 lbs
For children ages 6 months up to 40 lbs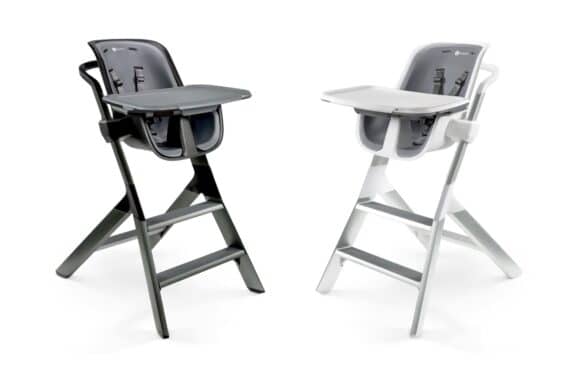 The 4moms Magnetic 2.1 highchair is designed to adjust to 3 height positions and 2 tray positions. The coolest feature on this tray is the magnetic tray attachment that keeps the 4moms compatible bowls(1 large bowl with lid included) where you left them. No bowl tossing here! It also features an easy-to-clean, removable foam insert and top rack dishwasher-safe tray liner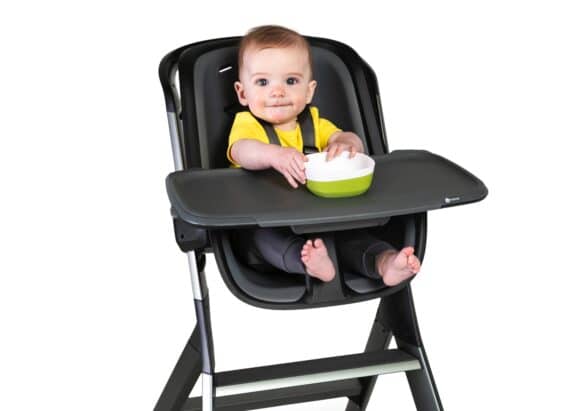 SPECS:
28″L x 22″W x 38″H
Weight 15lbs
For use with children up to 60 pounds