When she was diagnosed with breast cancer at age 29, Shannon Webb learned that she'd have to endure surgery, chemotherapy, and radiation. But before any of the treatments started, doctors encouraged her to freeze some of her embryos.
"[The doctors] said, before I went through all my treatments, 'You should think about freezing your embryos. Because after breast cancer treatments, you don't know if you can still have kids,'" Shannon told Global News.
And so, that's exactly what she did, just before all of her treatments in late 2011, just before starting a year of treatment. At that time, she wanted to become a mother, but doctors told her that she still needed more medication that would make carrying a baby too risky. It was then that Barbara Gitzel, Shannon's best friend for 20 years, stepped forward and offered to serve as a surrogate.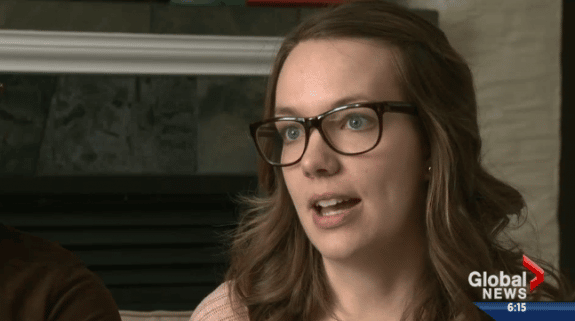 "I've always wanted to communicate [to Shannon], 'You mean a lot to me, the things that you've gone through,'" Barbara told Global News. "I just want to be able to bless you, and be able to help you."
And what better way to do that than to offer to carry a child for Shannon?
For Shannon, the gift couldn't have been more perfect.
"It's just overwhelming," Shannon said. "My heart is overflowing. Like, what a special friend to do that for us. It was very special."
And so, after obtaining a blessing from her husband, Barbara started up the hormone therapy needed to prepare her uterus for implantation. The first two attempts were unsuccessful, but the third one provided a positive pregnancy test—a test she sent Shannon a photo of.
"I got a text on my phone and I showed Jeremy the pregnancy test that was positive," Shannon said. "And he said, 'Oh, the little Sticker stuck!'"
And from that moment on, the fetus became known as Sticker.
As the pregnancy progressed, Barbra talked to her own two children, Jonas (5) and Miles (7), explaining that she was having Auntie Shannon's baby for her. And, as Barbara included Shannon in on everything from maternity shopping to doctor's appointments, the friends joked about how Barbara was doing some Extreme Babysitting—a job she did beautifully, despite a few friends being concerned in the beginning that maybe she'd find the role of surrogacy to be harder than expected.
"You know, 'You're going to have this baby and you're gonna have to give her up,'" Barbara said. "[But] I think, from the very beginning, she was never our baby. She was always Jeremy and Shannon's baby."
And that became quite clear on November 11th—delivery day.
Shannon would be the one to drive Barbara to the hospital that day, and she even had the chance to help deliver her own baby girl, right there in the delivery room.
"I caught [the baby's] head coming out, and I could see her red hair, and Jeremy and I were laughing, crying . . . hysterical," Shannon said.
"We were just losing it, the doctors were losing it, the nurses were crying. Everyone was so happy," Jeremy said.
Even Barbara, who had to go through all the tedious work of delivery, was happy and excited for Shannon and Jeremy. In fact, after a short three and a half hours of delivery, Barbara said that seeing the faces of her friends as they held nine-pound, four-ounce Elodie was more than worth all that work.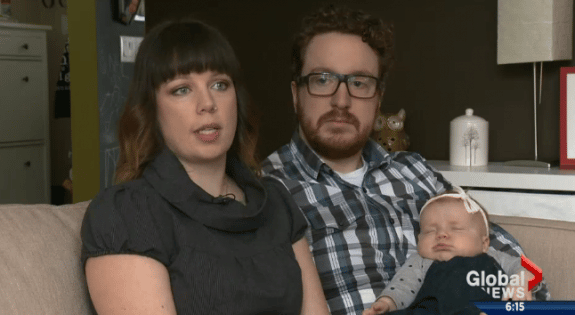 "I just wanted to be able to let them experience it," she said. "Because being a parent is awesome, and I just wanted them to be able to do that, too."
As for how life is now, Shannon and Jeremy said they couldn't be more grateful—so grateful, in fact, that they describe the gift they've been given as nothing short of "overwhelming."
"We did go through a really hard time, and to just give us this gift that we couldn't have had without her, it was very special," Shannon said. "This little baby has so many people to love her. She's just so lucky . . . We're just so lucky."
Related Articles: